(Recently he changed his pseudonym. So you'll see two different pseudonym like K and Tesseract on this website. We'll uniform these if we have time to rewrite the pages corresponding. Moreover, he's known as Dr.M among some skiers. So we mention this pseudonym as well.)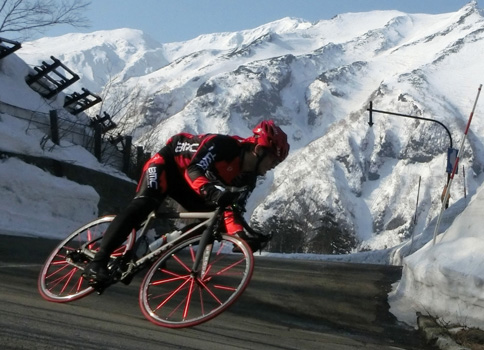 K is the translator of this website and translates this site into 5 languages. He was a cyclist in an Italian team and used to ride 1200km in the snow a month when he was racing. He knows winter roads of Hokkaido better than anyone.
He was well known as timetrialist when he was high school student. He won several time trials and podium of road races in nation-wide high school levels thanks to the winter training. And he held several course records of races in Hokkaido and one of them is still unbeaten. He is also known as good racer in bad weather conditions. He often attacks in descents of zero visibility condition and torrential rain condition. He says he is confident of controlling bikes in bad meteorological conditions thanks to the winter training.
He was sent by one of the best teams in Japan: Nippon-Hodo (current Nippo) to an Italian team as a rider in 1997. However, he retired from the bicycle races because of knee problem. Currently he rarely rides bikes. He works as doctor (physician) and also medical interpreter (French, English, Italian - Japanese) in Hokkaido. You might sometimes see him in international bike races as a race doctor or interpreter.
His website: terminologie médicale japonaise avec les traductions françaises
.
Teine Mountain Timetrial best Record (from the National Route 5 to the aerial cableway station): 23 minutes 8 seconds (4th June 1996)
The best Record of the Mt.Moiwa Mountain Climbing (from the gate to the parking at the summit): 11 minutes 55 seconds (7th July 1996: official record of the race)
1994-1996
ONO Sapporo Manseikaku (JAPAN)
1997
Gewiss Playbus Cavallino (ITALY)
(Satellite Team of Batik Del Monte)
2004
Keio University Bicycle Racing Team (JAPAN)
2005
Sereno Racing Team (JAPAN)
2006
SERENO Jitensha-no-Mori B&H (JAPAN)
His comment:
Hokkaido is the best place in Japan to ride bikes.