For Cairn, it's first time to climb the Mt.Tokachidake in winter. He is a little concerned about the cold of the Mt.Tokachidake.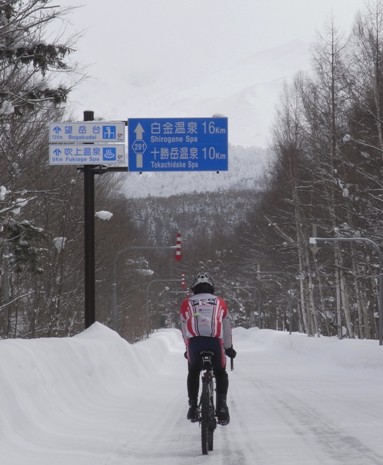 Tesseract is used to the cold of the Mt.Tokachidake. So for him, there is no problem.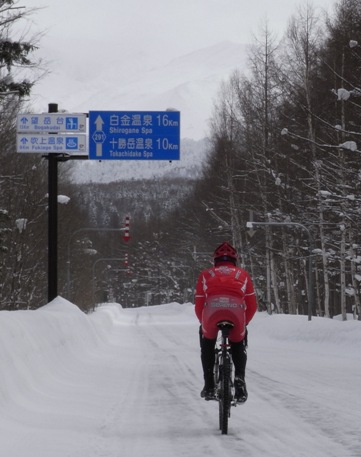 The Mt.Furanodake (Mt.Furano) entered the view.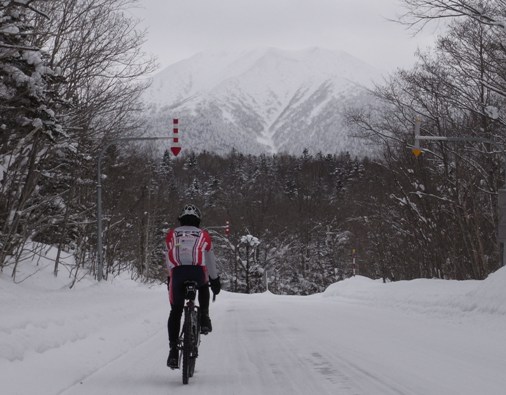 But it's more and more covered by clouds. It's snowing on the summit of the Mt.Furanodake.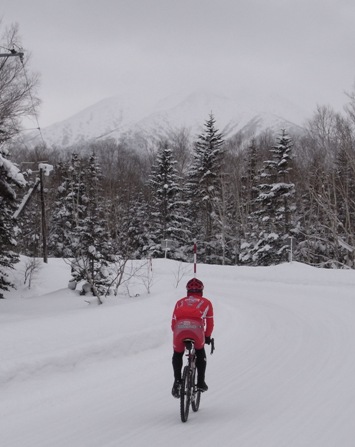 High mountains (including the Mt.Tokachidake) are being covered by snow clouds.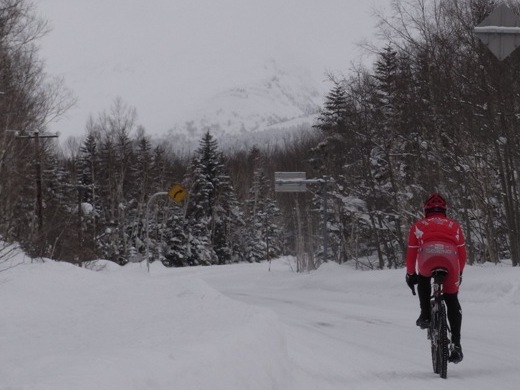 A little staggering.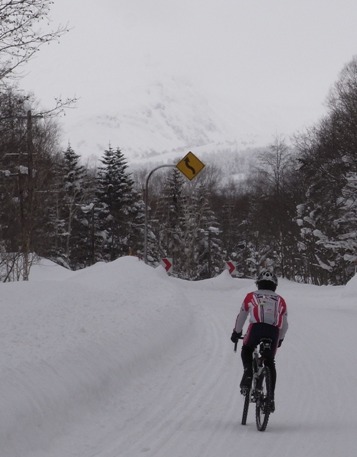 Tesseract seems to feel hot as he wore a lot.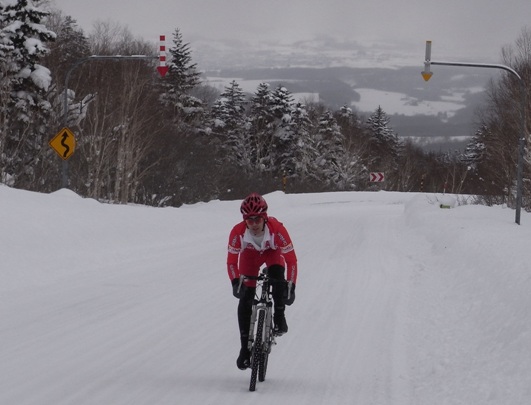 Cairn as well, he seems to feel hot as he wore a lot.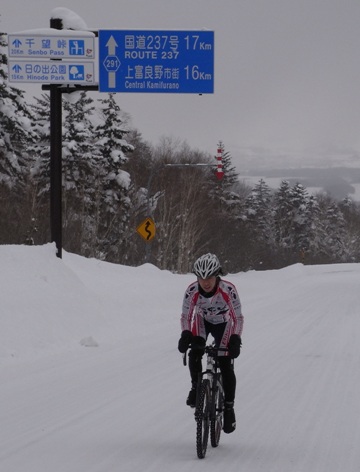 It began to snow. Cairn activated the tail lamp.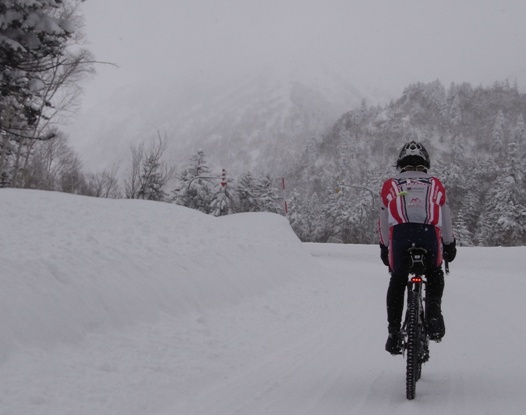 Tesseract activated his as well. His new tail lamp is really bright.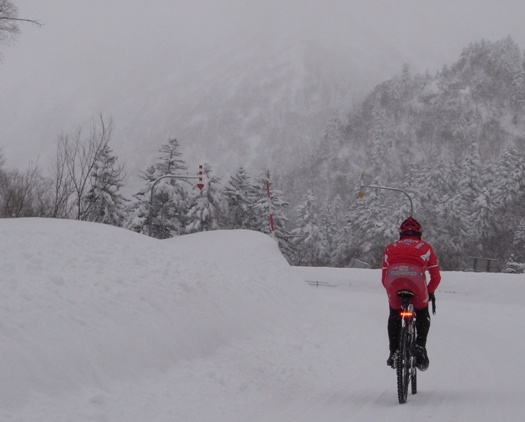 We entered the part where the gradient is 140 per mill. Cairn who is good at uphill is accelerating.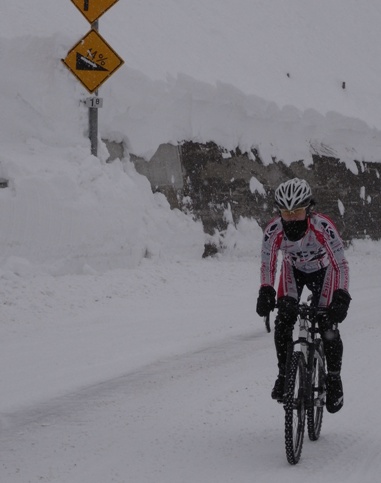 As Cairn accelerated, we began to ride competitively. When Tesseract was racing, Cairn had no way to beat him in the climb. But after 13 years of retirement, currently Tesseract rides bike only 2-3 times a month and he lost the mojority of his force. However, Cairn is still racing so our speed in the climb is very close. We climbed last 2 kilometres changing the lead. We both pedaled at the maximal power. When Tesseract accelerated 7 hectometres from the summit, Cairn tried to chase him in haste. But this haste caused his stop. He stopped two times because his tyres were taken by snow. But c'est la vie!
Tesseract arrived first to the Mt.Tokachidake Hot Springs where there is the highest motorable road in Hokkaido during the winter. Its altitude is 1280m.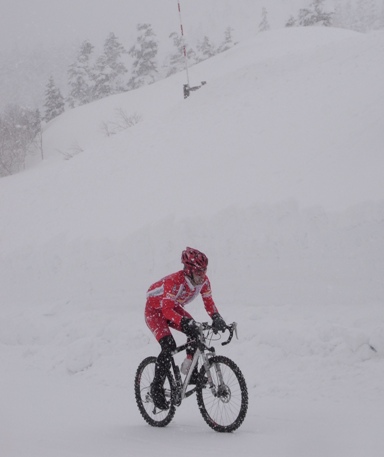 Cairn arrived 41 seconds later.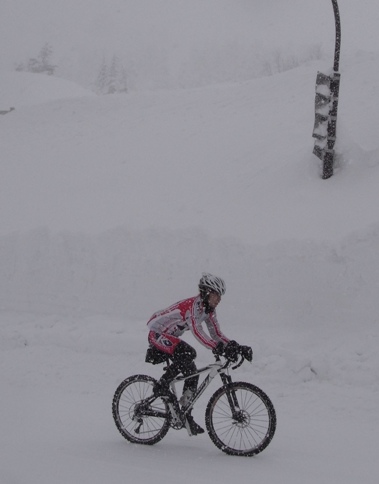 View from the Mt.Tokachidake Hot Springs.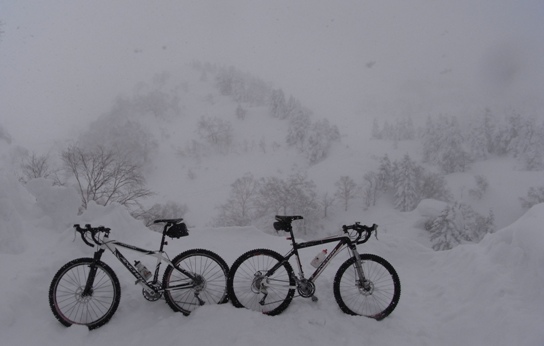 Snow crystals on the saddles. As the temperature is low: minus 16 degrees Celsius, snow crystals preserve their form.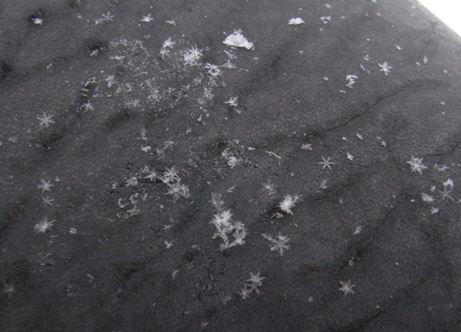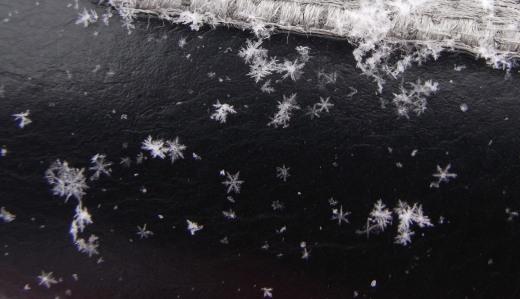 We stayed there for a while chatting. And began to descend.
Tesseract precedes.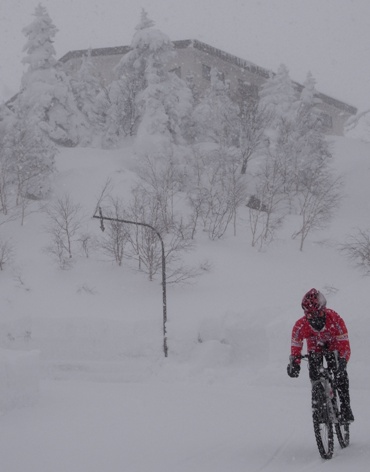 Cairn is using studded tyres of bad condition, so he's descending very slowly. The gap is already 40 seconds.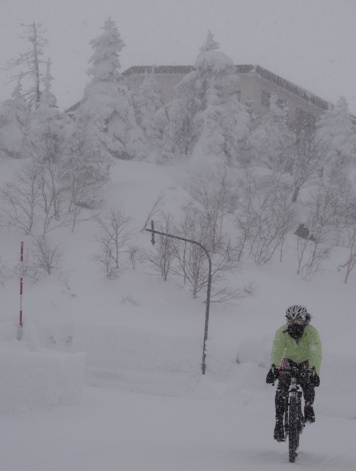 The state of snow on the road is not good. As the snowfall is strong, the snow height is increasing very rapidly.
Tesseract seems ok even in this condition.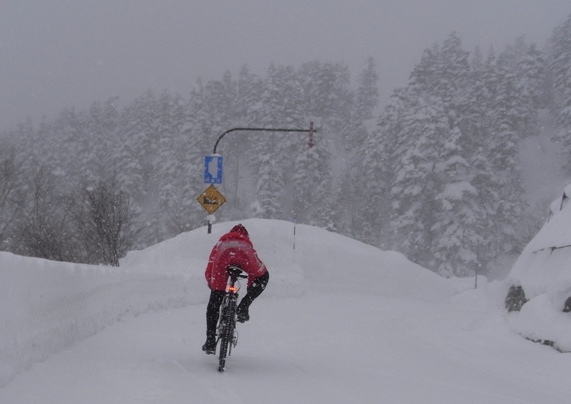 But Cairn doesn't seem ok.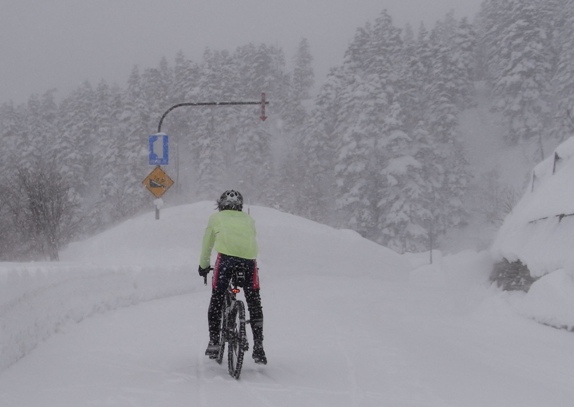 The snow fall is more and more stronger.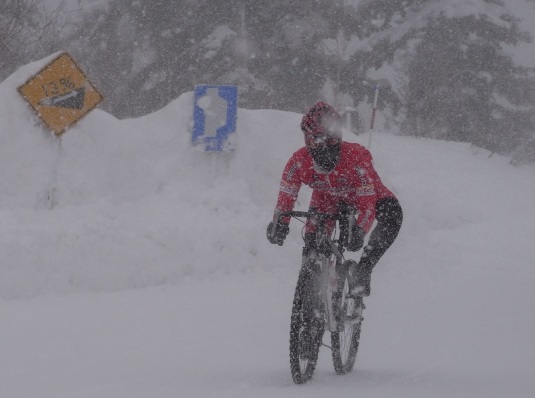 Cairn who isn't used to cold of the Mt.Tokachidake began to show some sign of hypothermia.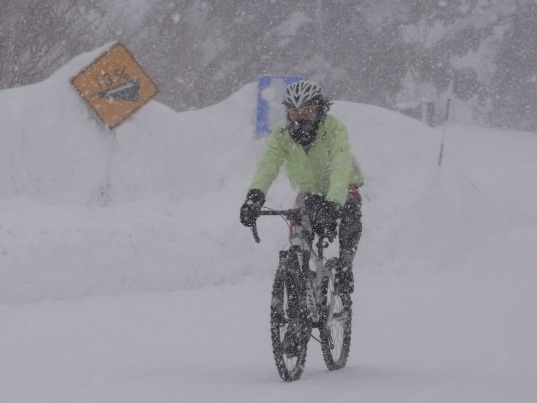 Tesseract used a car as wind shield but this car almost hit a car from the opposite direction as it skidded in a left-hand corner. So Tesseract didn't want to stay behind this car and passed it. Cairn is descending practicing
Switchback Descent
as he showed some sign of hypothermia.
Tesseract arrived first at the foot of the mountain.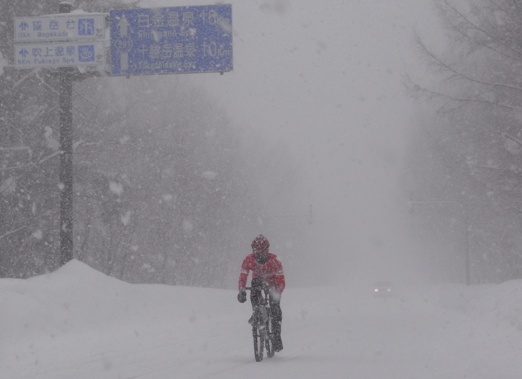 Cairn arrived 22 minutes later. Mayby it's because of Switchback Descent, he arrived so late. Because he climbed again for 100 metres (horizontal distance). He is overwhelmed by the cold of the downhill.