K
participated in this training. It was minus 15 degrees Celsius at the Mt.Tokachidake Hot Springs. The travelled distance was 24km. At the foot of the mountain, at the cities of Nakafurano and Kamifurano, it was between minus 11 to 13 degrees Celsius. This morning, it was colder on the plain than at middle elevated areas.
It's first time for him to use Schwalbe studded tires. He equipped his bike with Ice Spiker Pro of Schwalbe which have tungsten carbide core studs. As the most of the part of stud is in aluminium, these tires are very light. It weighs less than the half of his former studded tires: IRC Mudmad with motorcycle studs (cf.
Studded tires
).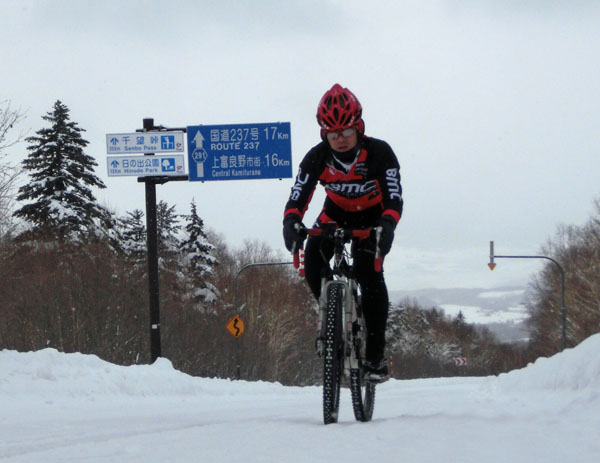 He says these tires are really light and have much less rolling resistance than IRC Mudmad. He can climb at a speed close to that of summer road racing bikes although he can climb only at a half speed of summer bikes with IRC Mudmad. He doesn't need to use three lowest gears to climb with Ice Spiker Pro although he climbs with the lowest gear in this section when using IRC Mudmad.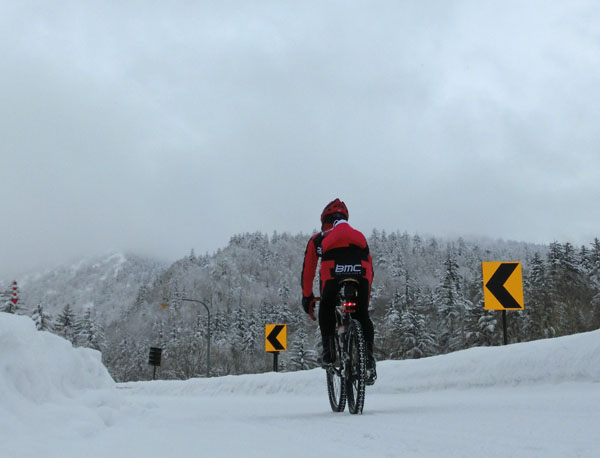 Hard rime begins at this altitude.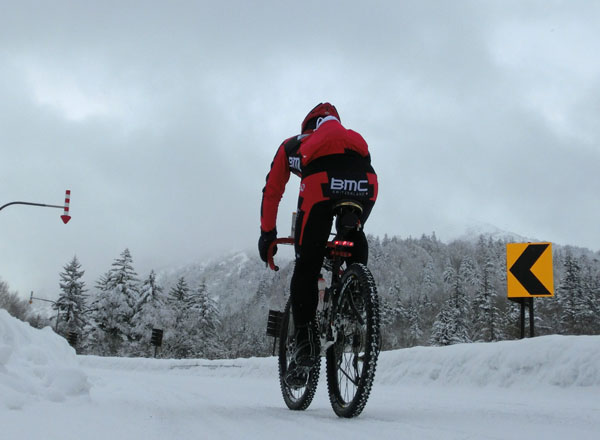 The Mt.Furanodake (Mt.Furano) is cloud covered.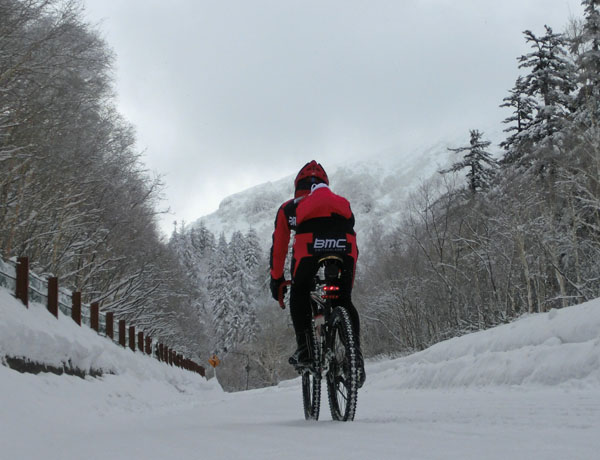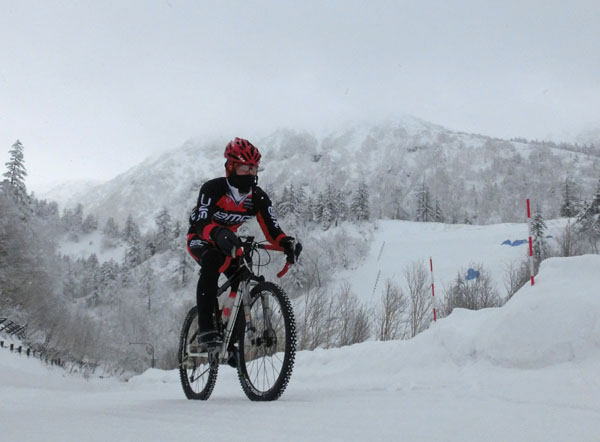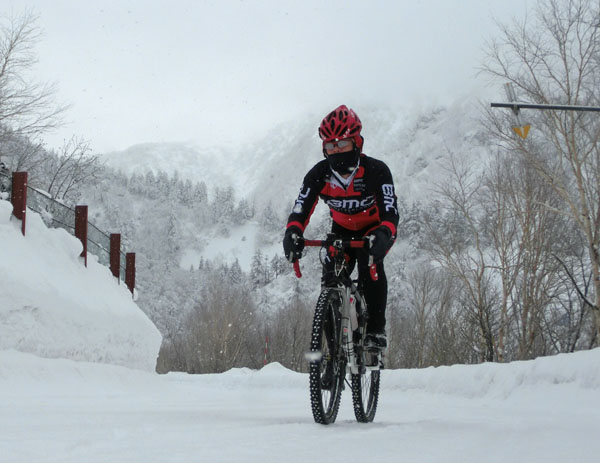 Hard rime is beautiful at this altitude.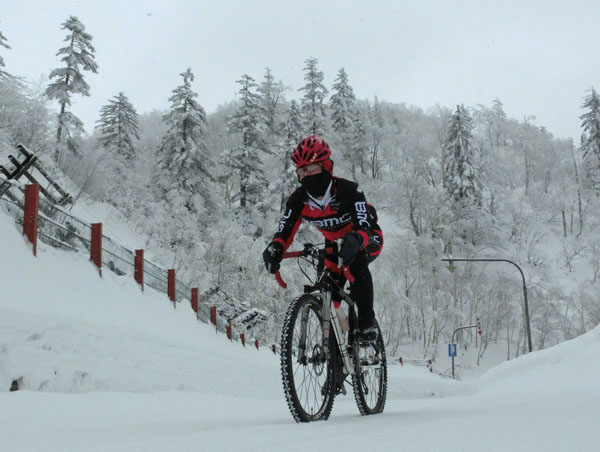 Hard rime is not constant this day.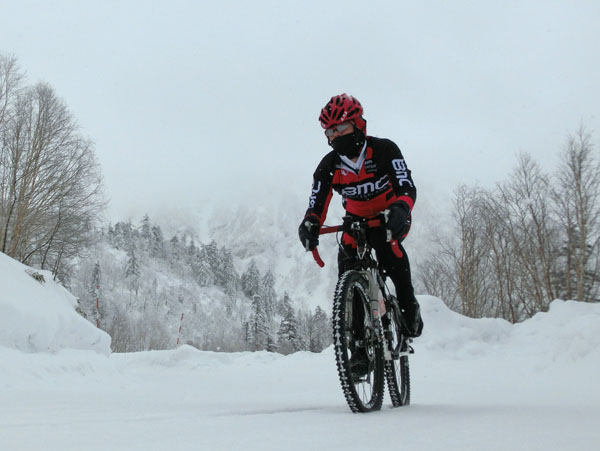 Arriving at the summit: the Mt.Tokachidake Hot Springs of which the altitude is 1280m.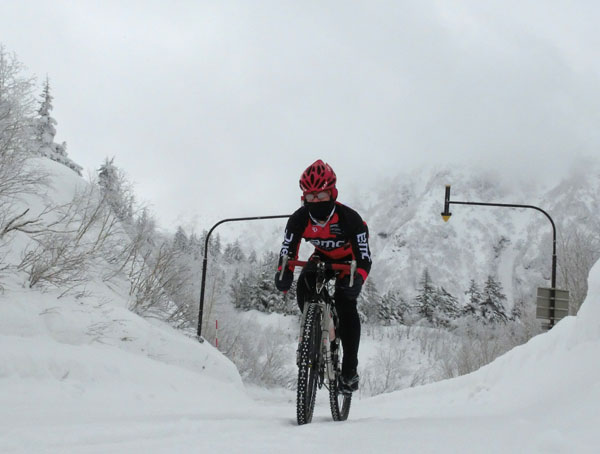 He descends at the altitude of 1100m.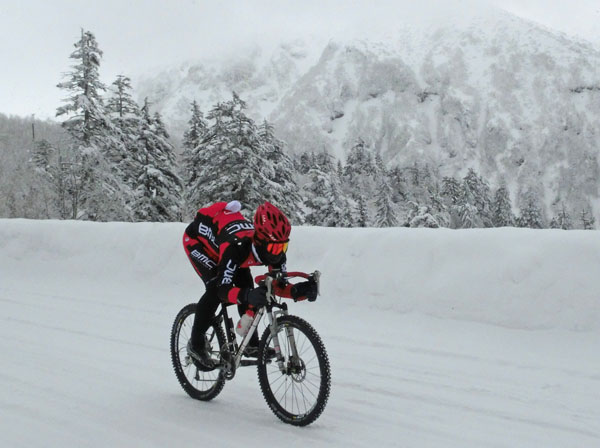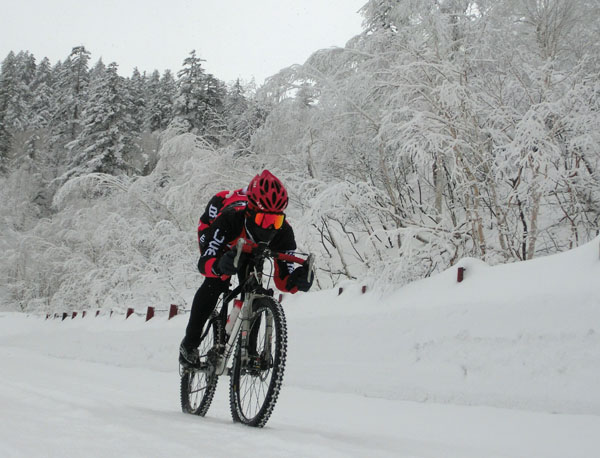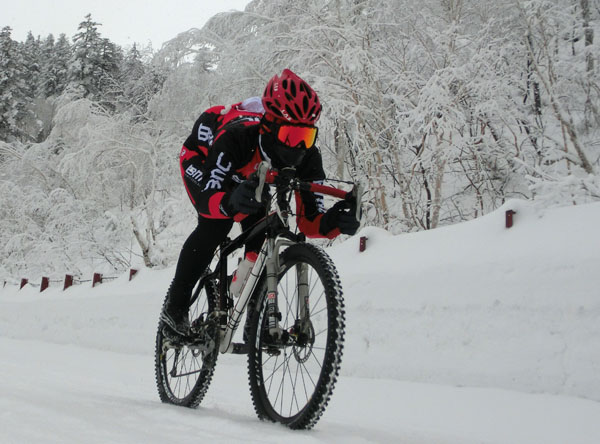 He made a U-turn and climbed again.
He did sprint training at the summit. You don't need to displace the centre of gravity to ride standing on the pedals so that the studs grasp the snow surface as Schwalbe Ice Spiker Pro have studs two times more than IRC Mudmad (cf.
Mt.Tokachidake 3
).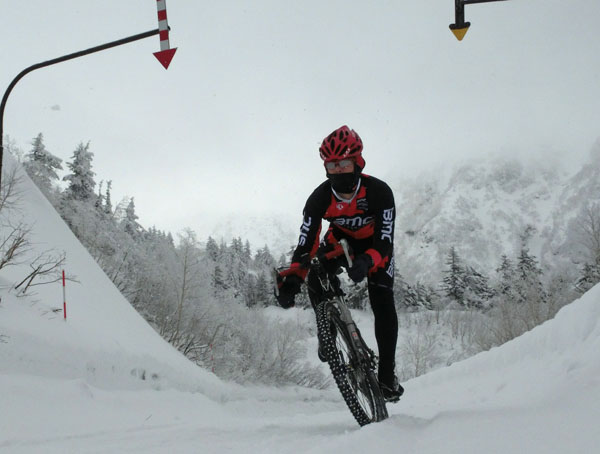 This time, he descends up to the foot of the mountain. As he is not used to these new tires, he descends carefully. The maximal speed was only 48km/h although the road surface condition wasn't so bad. Without displacing the centre of gravity, rear tire of Ice Spiker Pro skids more than that of IRC Mudmad when braking. But this skid makes easier to turn corners as the bike turns itself.