The temperature was around minus 10 degrees Celsius at the highest point of this day.
We went to Akaigawa to train.
We displaced to Akaigawa by cars. In summer we go to train to Akaigawa by bike from home. However, in winter we sometimes use cars to get to regions which are suitable for the training.
But in the approach to the Kenashi Pass, the snowstorm was getting worse and we couldn't distinguish the road any more. Our cars and some others were stuck just before the summit as we couldn't move without seeing anything. We met there two English speaking foreigner who were also stuck there heading for Skiing Resort Kiroro. We talked with them and one of them took this photo. They gave up going to Skiing Resort Kiroro and they returned. But we continued our route.
Cairn
and
Tesseract
, both have experiences of working as English translator, but we didn't expect to speak English in such condition, at the Kenashi Pass in blizzard. The temperature was minus 11 Celsius at the Kenashi Pass.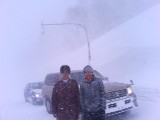 It was extremely snowing. The snow depth increased about 15cm during only 30 minutes. It was unusual ride. We climbed at the altitude of 545m. The snow depth in Akaigawa was over 2m this day.
The half of the wheels was in the snow. However, it was easy to ride as the tires could grasp the compacted snow beneath the fresh snow.