This time, a new member: Dr.Yamamoto came to participate in our training for a first time.
Dr.Yamamoto leads. He rides a cyclocross bike of which studded tires are not so sophisticated as those of MTBs (mountainbikes). Which means they don't have studs as many as those of MTBs. Therefore, they are lighter. To the detriment of the descent, he could be very strong in the climb. They have advantages in the climb as they weigh less. However, they have disadvantages in the downhill as few studs aren't enough to grasp snow or ice.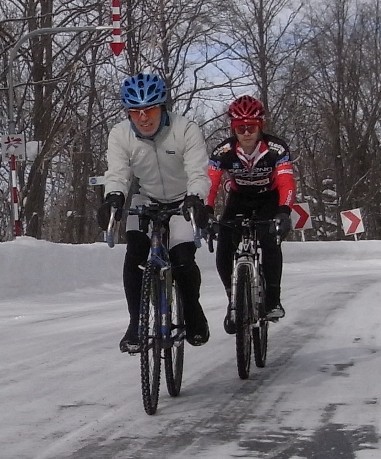 The Mt.Furanodake (Mt.Furano) is really beautiful today.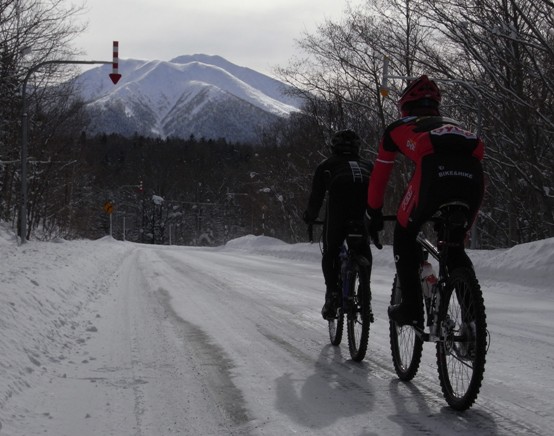 The Mt.Tokachidake (Mt.Tokachi) soars in front of us.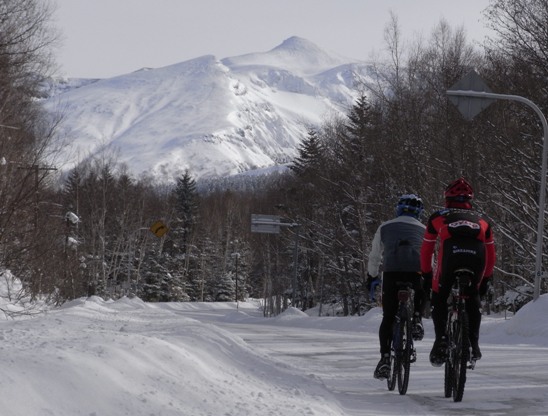 It's very rare to have such a nice weather in winter.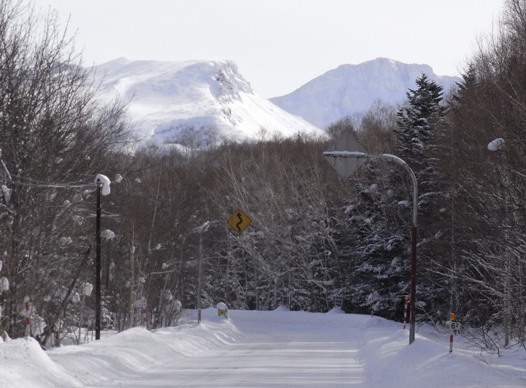 K follows Dr.K.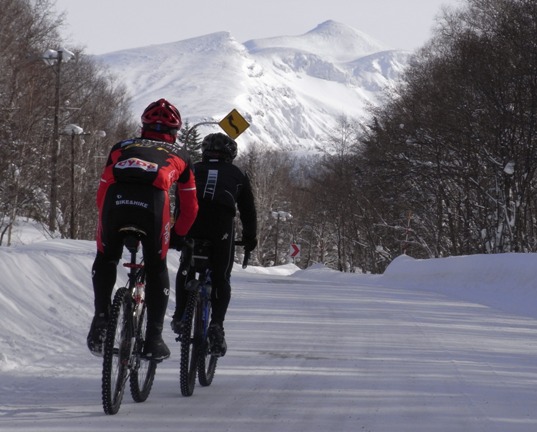 Dr.K.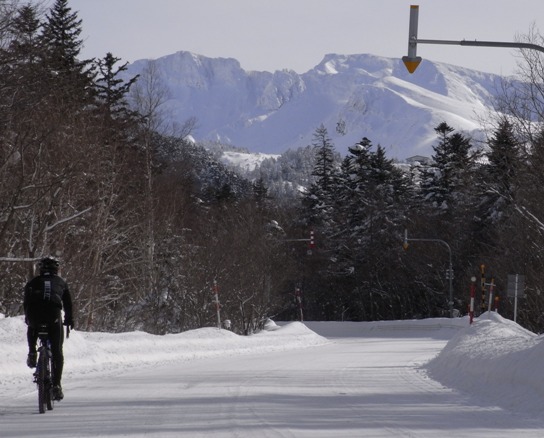 Dr.Yamamoto.
We are gaining altitude talking together. The city of Kamifurano is clearly seen behind us.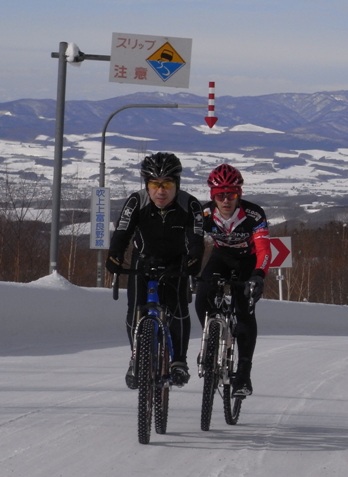 Dr.Yamamoto leads the most of the part.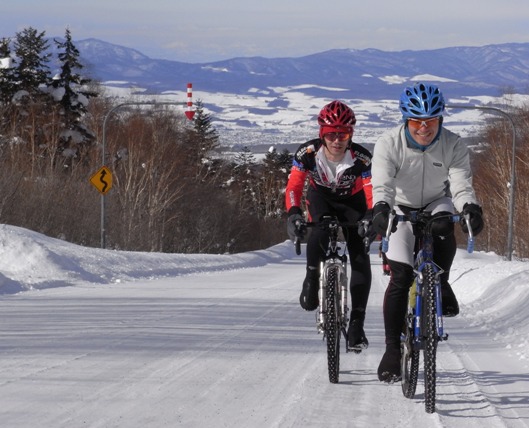 Finally K went to the front and began to lead. We see that the summit of the Mt.Furanodake is exposed to super strong winds which raise clouds of snow.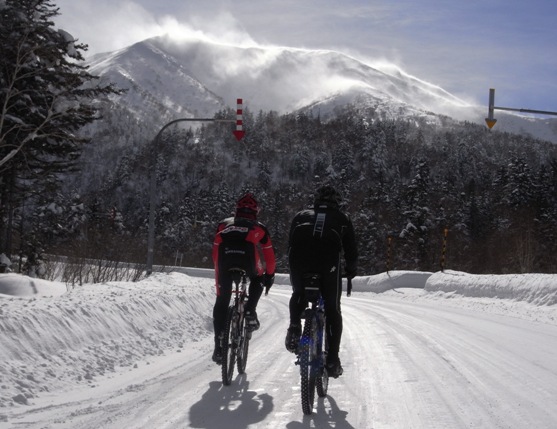 We are reaching the crossroads which is situated at the altitude of 1000m.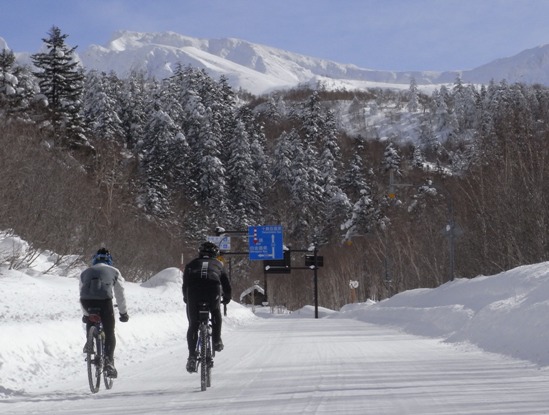 Passing the crossroads, Dr.Yamamoto accelerated. Because K informed him that it would be a warming-up up to the crossroads and our training would commence after passing the crossroads. It was true but our training usually begin at the 1km point to the summit not so early.
Dr.K and K didn't prepare for this. They are used to ride more slowly. Dr.K dropped out soon. Only K followed Dr.Yamamoto.
Dr.Yamamoto's tempo is very high and K follows without letting gap open. Because he knows if he lets gap open, he can't keep up the speed of Dr.Yamamoto.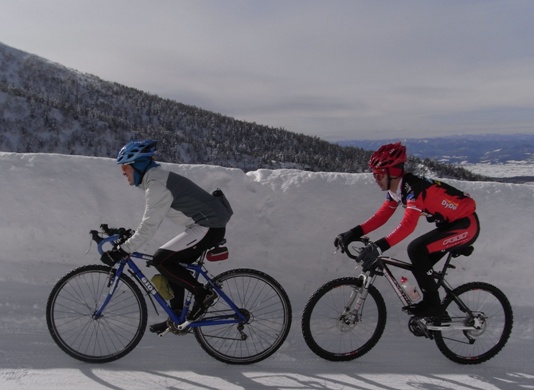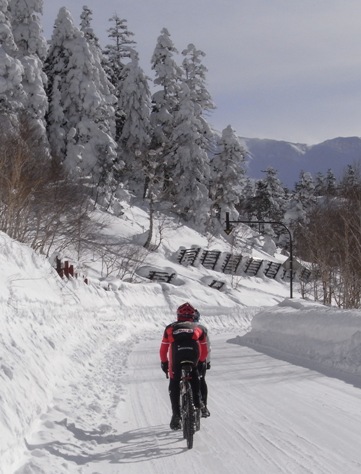 However, Dr.Yamamoto is exhausting his energy climbing at a high tempo and K did lead only once when Dr.Yamamoto slowed down in the first 14% steep climb. Apart from that, K always stayed and rested behind Dr.Yamamoto.
K saw in the pedalling of Dr.Yamamoto, signs of enough fatigue and decided to attack in the corner where the wind direction would change to fair wind.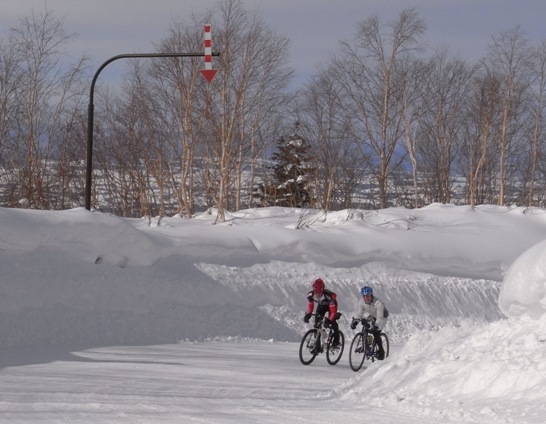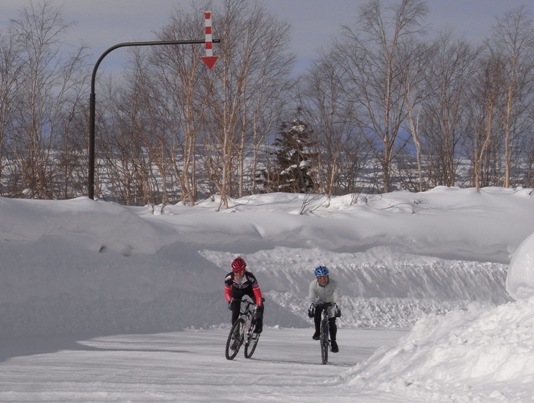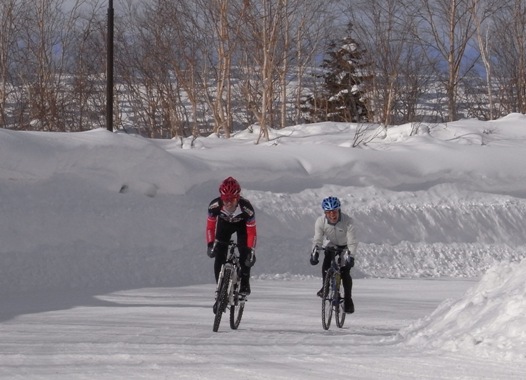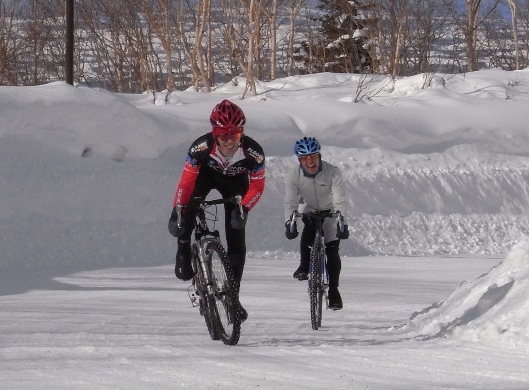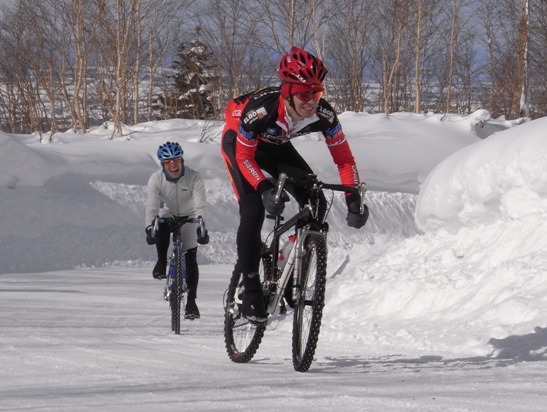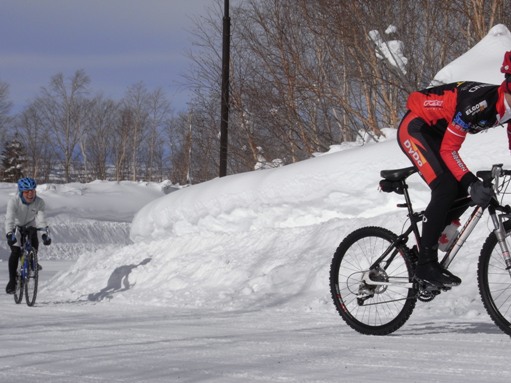 However, he miscalculated. The wind wasn't fair wind but head wind. Dr.Yamamoto reacted soon and he catched up for a while.
But he had used too much energy and he couldn't keep up the speed. So K's breakaway became definitive.
K arrived first to the Mt.Tokachidake Hot Springs which is situated at the altitude of 1280m.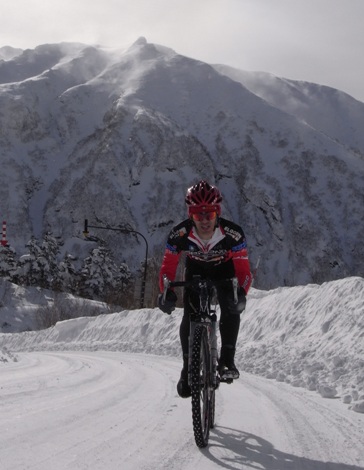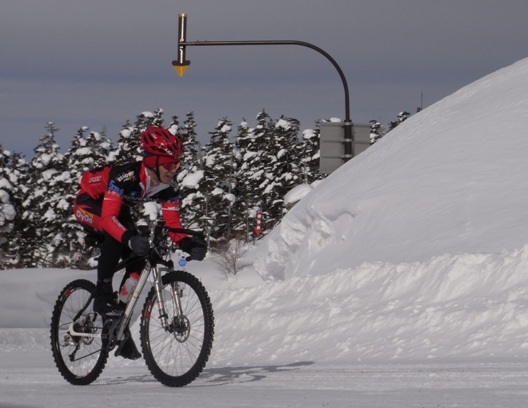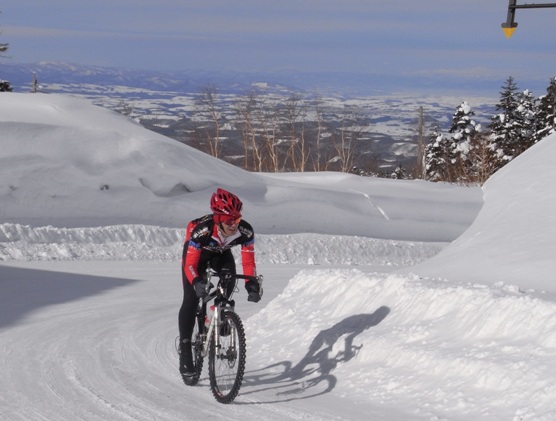 Dr.Yamamoto arrived 33 seconds later. You can say he is the veritable winner of this climb as he led all the time.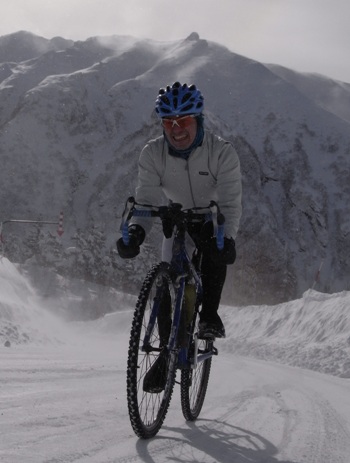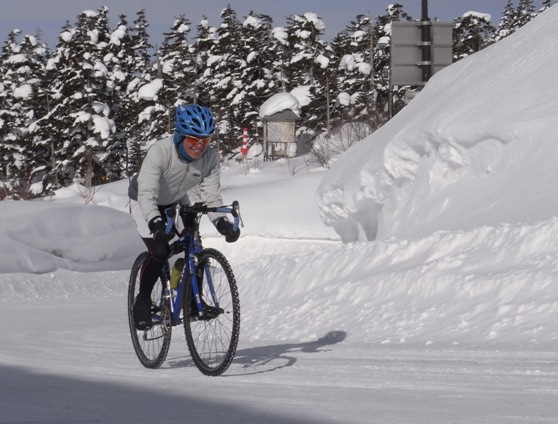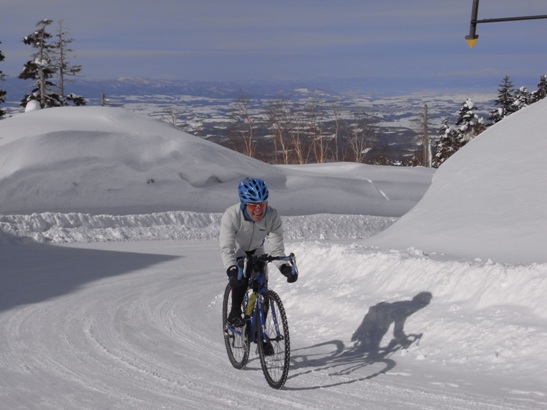 As average speed was much higher than usual, Dr.K was left behind.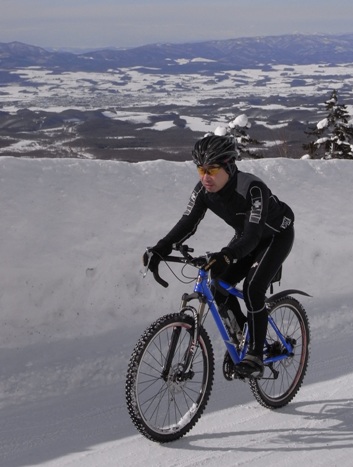 Dr.K arrived 9 minutes 50 seconds later.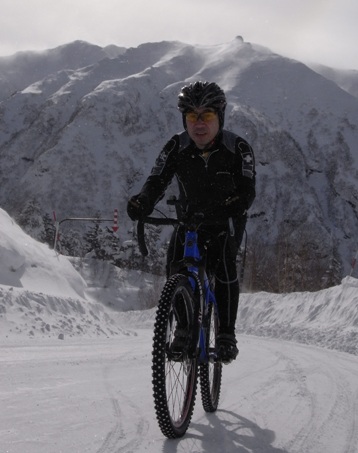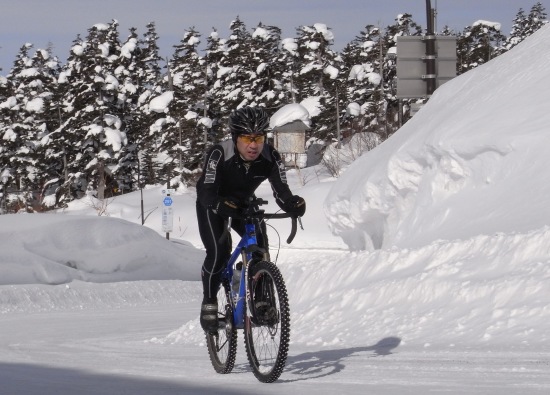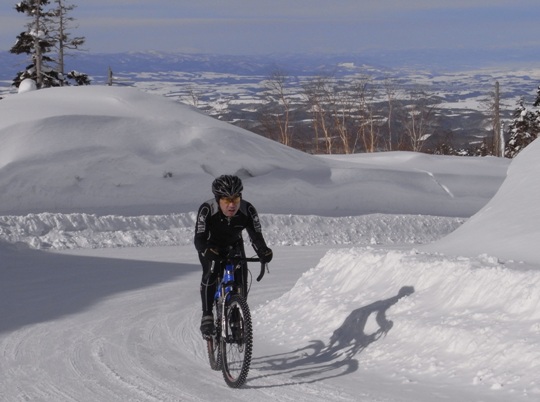 It's a very beautiful day.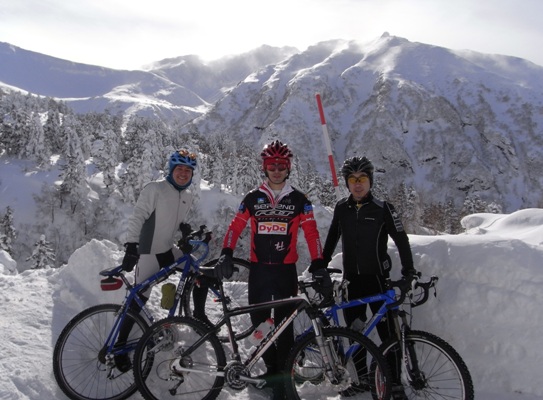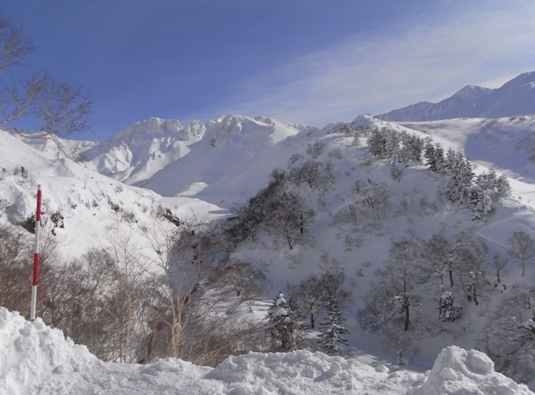 We descended to the crossroads.
K arrived first.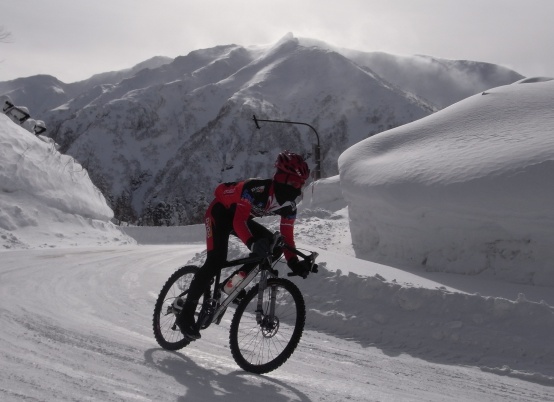 Dr.K arrived 26 seconds later.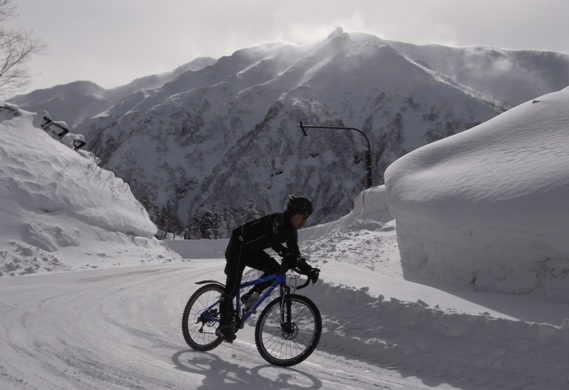 And Dr.Yamamoto arrived 53 seconds later. Dispite his studded tires which aren't very suitable for the descent, his downhill is enough rapid.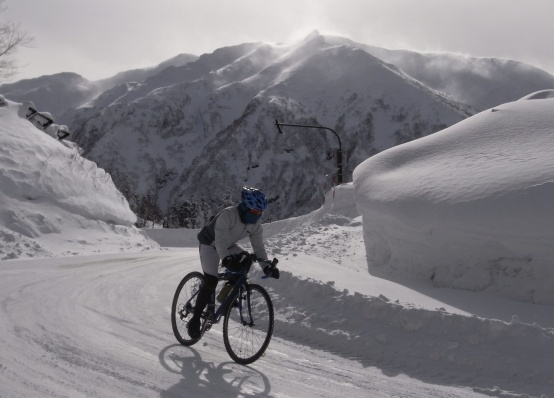 We rode up to the Fukiage Hot Springs.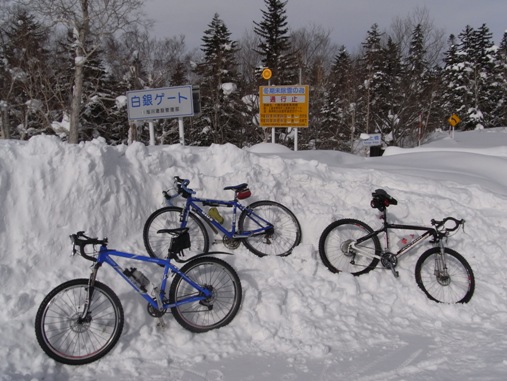 We head back for the crossroads. The Mt.Bieidake (Mt.Biei) is very beautiful.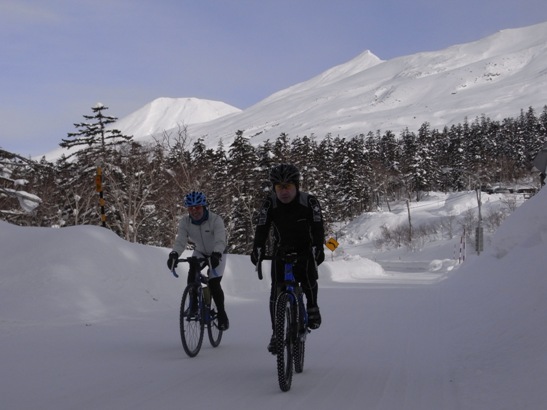 On the way, there is a small hill and we did a sprint match to the summit. At first, Dr.Yamamoto accelerated. Dr.K miscalculated the distance to the summit, who thaught the summit would be much far abandoned soon to follow. So only K followed Dr.Yamamoto and near the summit, K passed Dr.Yamamoto and won the summit.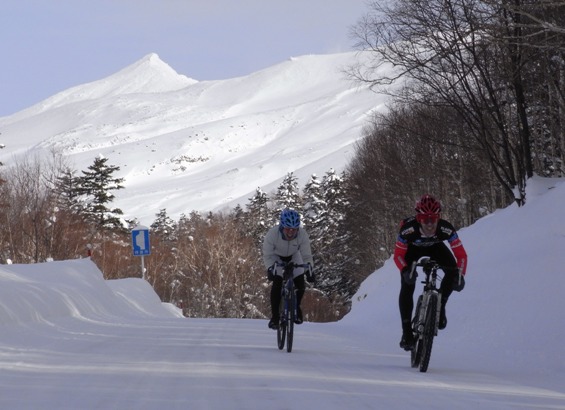 We lunched in a restaurant and we are going to begin to descend. But at that moment, a bus entered the road and began to descend.

K: