Tesseract came back to Hokkaido taking advantage of holiday from the mainland of Japan where he is studying. So we can at last begin this season's training report. This day, the usual members:
Mr.Takahashi
(because of some business) and
Cairn
(because of rehabilitation of injuries caused by a car crash) couldn't participate in the training. So, just two:
Dr.K
and
Tesseract
went to the training.
The temperature was about minus 8 degree Celsius at the Kenashi Pass. It was snowing a little hard but not extreme.
Our training began at the car parking at the altitude of 240m.
This day, we didn't do training hard but we were chatting all the time during the training.
Through an opening of clouds, the sunshine came from time to time. It was also a test run of the new bike for Tesseract. Tesseract kept saying
his new bike
is wonderful. Maneuverability and braking capability are very high in snow.
Dr.K armed himself with new equipment for winter: gloves, shoes etc.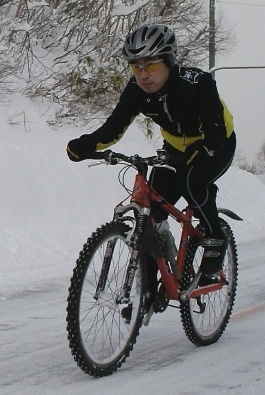 Final approach to the summit.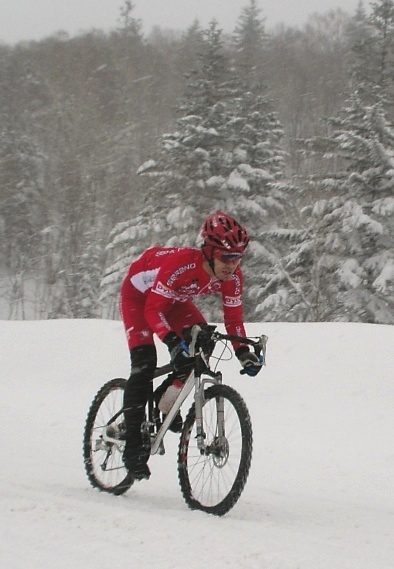 Passing the summit.
Tesseract's new bike's profile.
After passing the summit, we began to descend in the direction of Akaigawa. But contrary to the Otaru Side, at the Akaigawa Side, the snow removal hadn't been effectuated. The road was muddy and it was difficult to control the bike.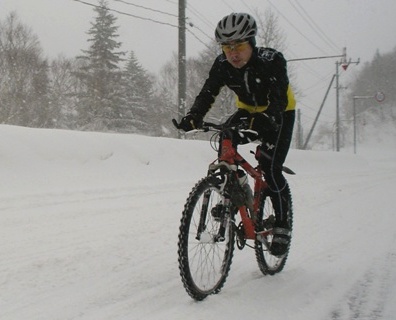 We descended up to the car parking at 320m in Ochiai. This parking is huge. Sometime, we'll do snow criterium here.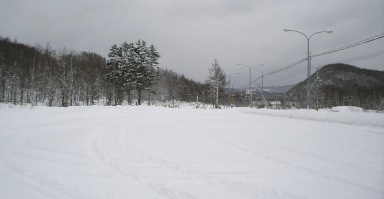 We began to climb the Kenashi Pass again from the Akaigawa Side. We took a narrow road instead of the National Route.
Tesseract is indicating the Mt.Yoichidake (the highest mountain in Sapporo: 1488m) as usual. But we couldn't see its summit as it was snowing.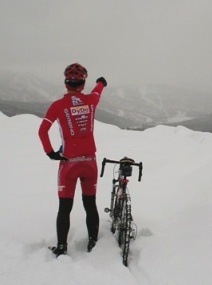 When we reached the summit again, two snowploughs passed us. So the road condition at the Akaigawa Side became good after we had completed our journey! It was toooo late! If they had come before, we would have sped...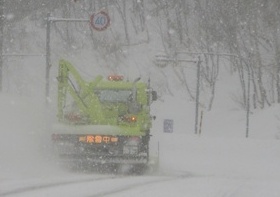 We began to descend. While we were descending, our bottles were frozen and we couldn't get water anymore...
But it's natural after three hours riding...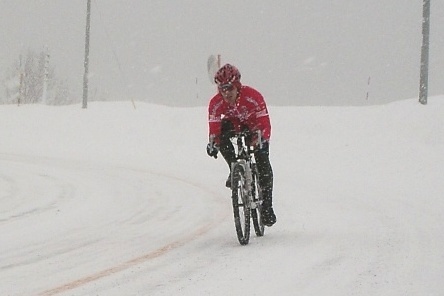 As usual, Tesseract who is a descent freak sped and went solo.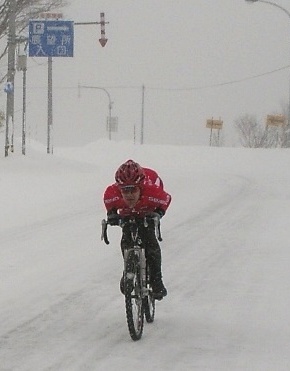 Tesseract's traveled distance was 44.77km, the average speed was 13.6km/h (too slow... too much chatting?) and the maximal velocity was 52.3km/h.
The Kenashi Pass Profile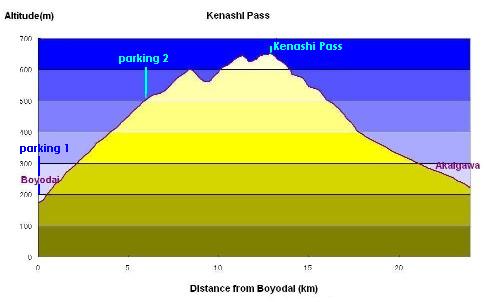 Routes Introduction/Kenashi Pass 1/2
Routes Introduction/Kenashi Pass 2/2