Mr.Takahashi finally composed a
road racing bike for snow
, a bike with road handlebar like the others. He says it's really good in comparison with normal mountain bikes. After composing this bike, he became really motivated and has been climbing the Kenashi Pass every two days.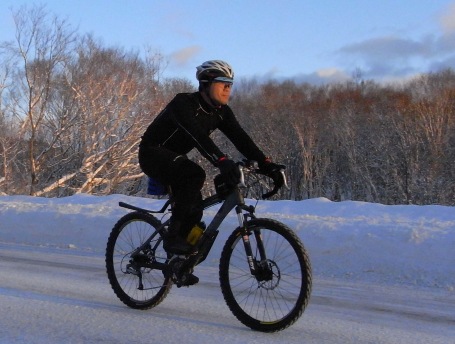 We passed the first hill talking together.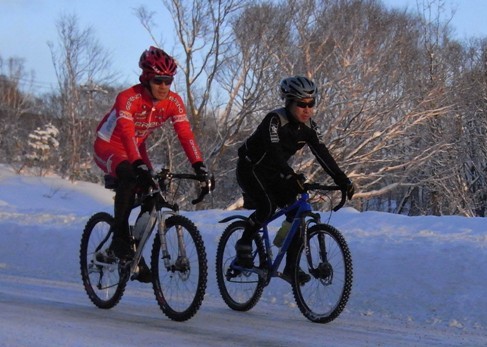 As Mr.Takahashi had to go to work, he returned to Otaru at this point.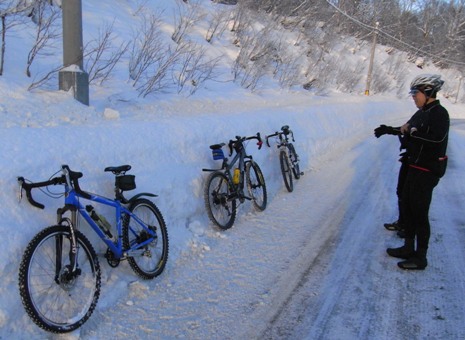 Dr.K and Tesseract continued their route.
Tesseract's passage on the Second Kenashi Pass.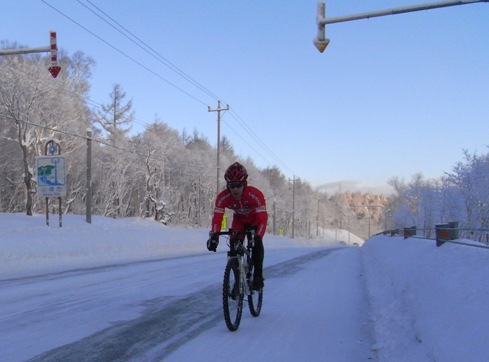 His taillight is still turned on.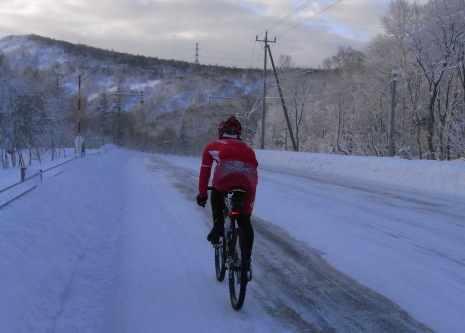 Dr.K's passage.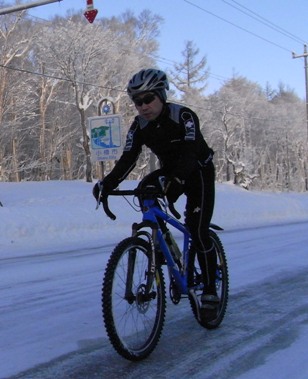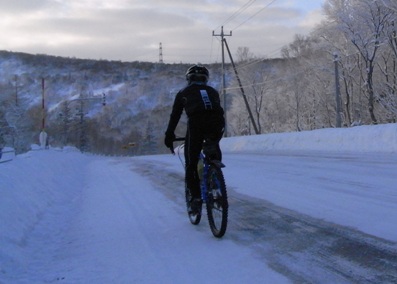 In the downhill, Tesseract broke away. As it was really cold on the descent, he put on a face cover. He's going to pass the sigmoidal corners at 490m of altitude using the power slide (power oversteer).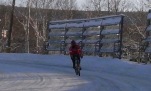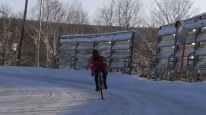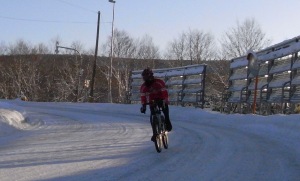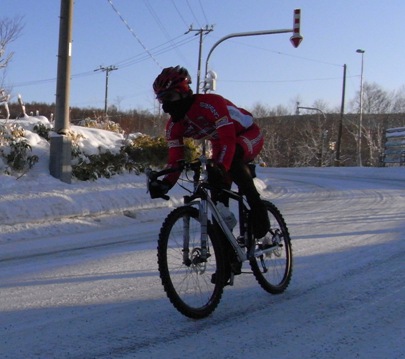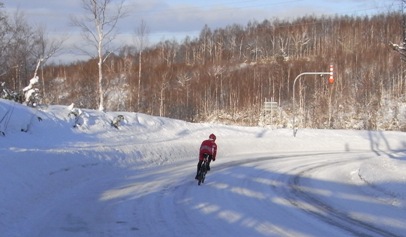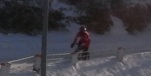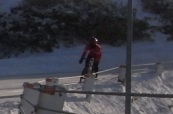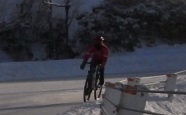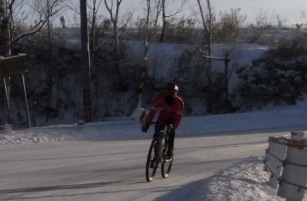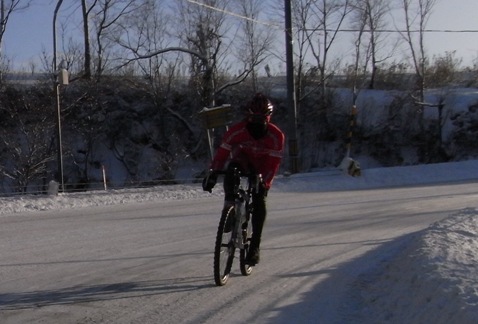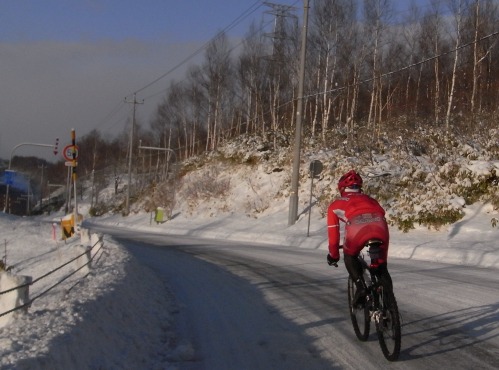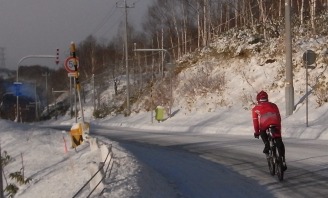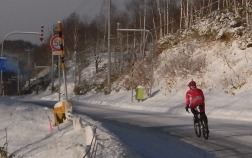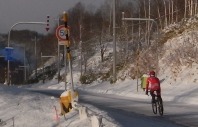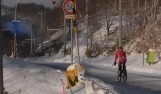 Dr.K is pursuing but he's already 25 seconds behind at this point.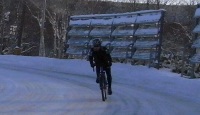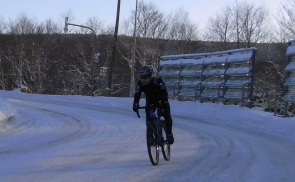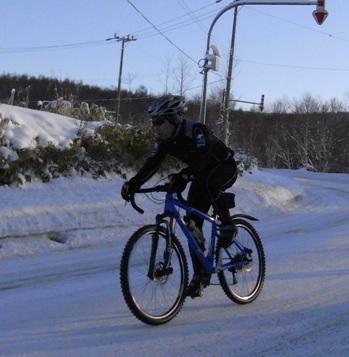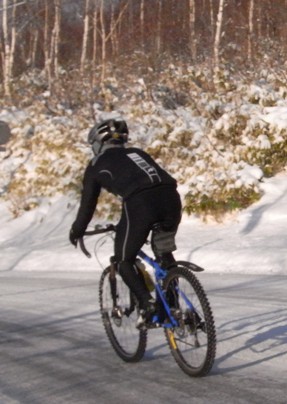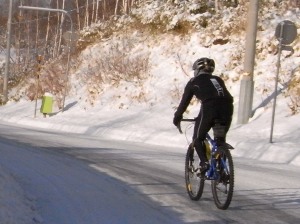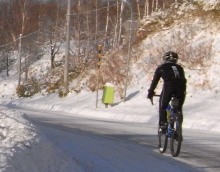 After passing this point, Tesseract caught up cars' group and he used them as windscreen switching them. So he gained more advantage on Dr.K. We regrouped at the foot and reached a parking situated in Tokiwa.
Tesseract still carries the face cover.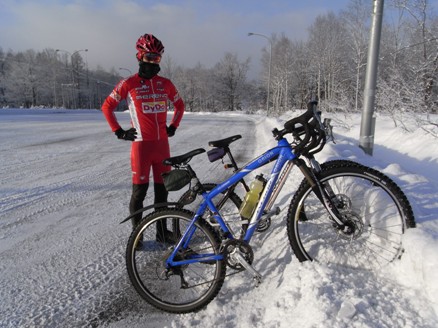 Afterwards, we headed for Kiroro Skiing Resort and arrived there.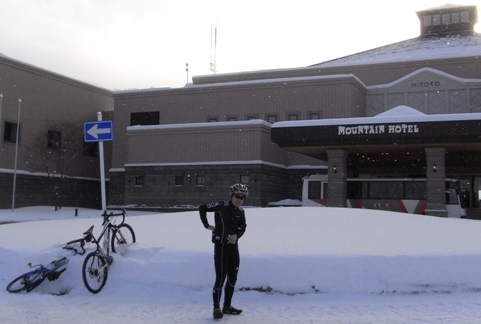 On the way home, we practised the power slide (cf.
Downhill
).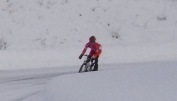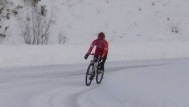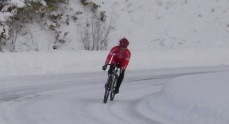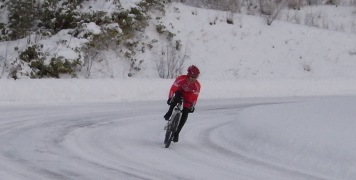 The moment the rear wheel skids, it raises snow.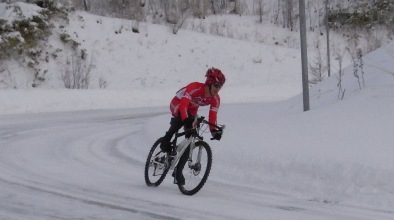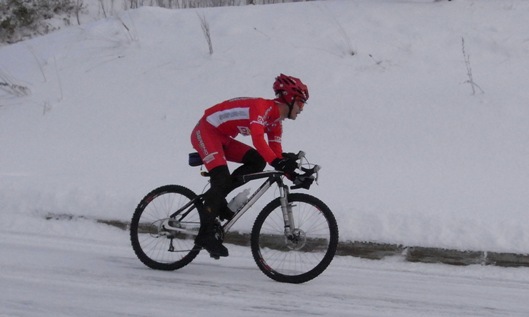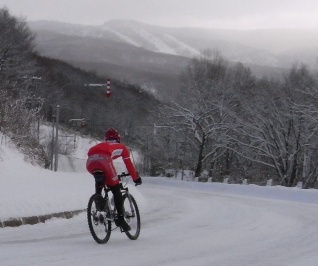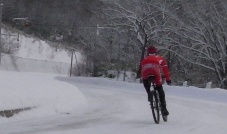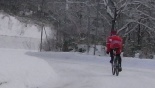 Finally Dr.K succeeded in doing the power slide.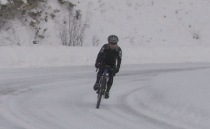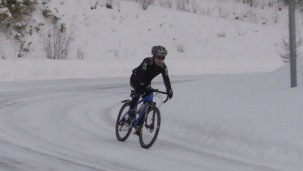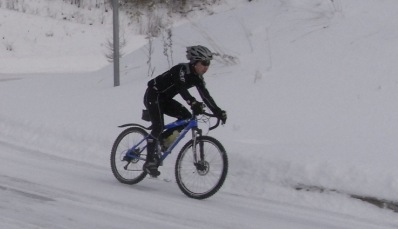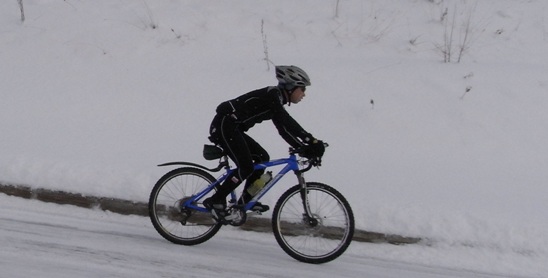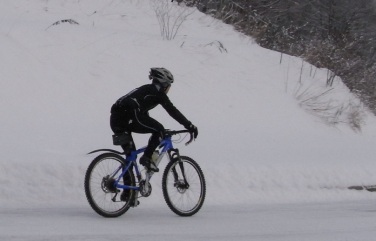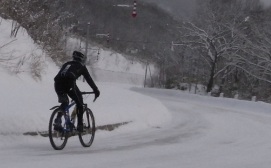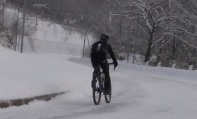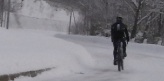 Video: You can watch the video of this practice.
It might be difficult to recognise the power slide as its side movement is limited to several centimetres alone. When the Tesseract's rear wheel is shaken, the power slide is occuring.
Tesseract opened the lid of the bottle and hitting it to drink (more correctly "eat") the frozen content using the earth gravity.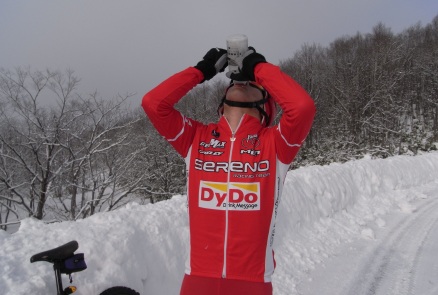 Frozen...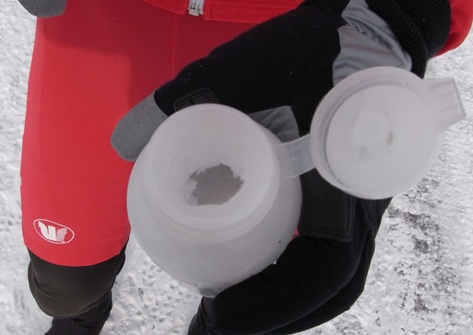 We can't see the Mt.Yoichidake as it's snowing there.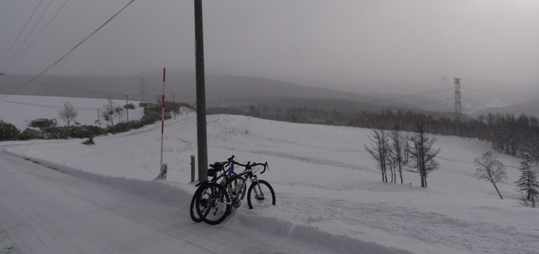 Tesseract is passing the summit of the Kenashi Pass.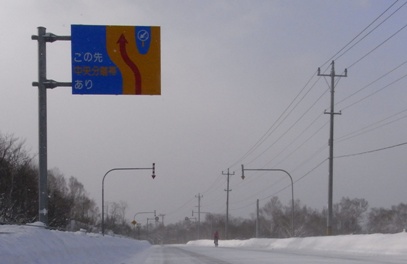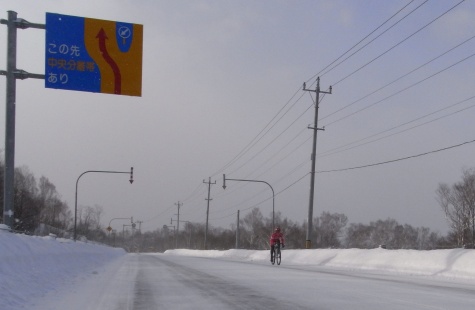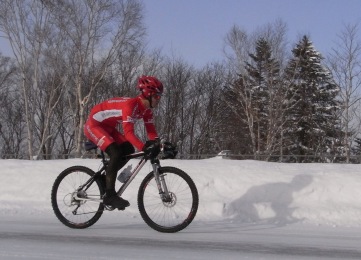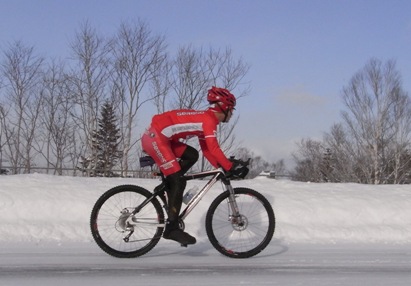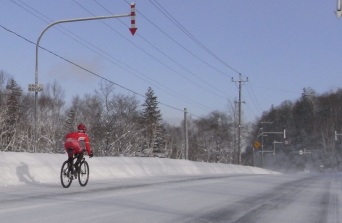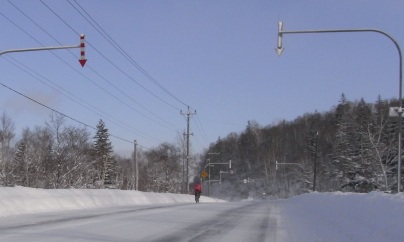 And Dr.K.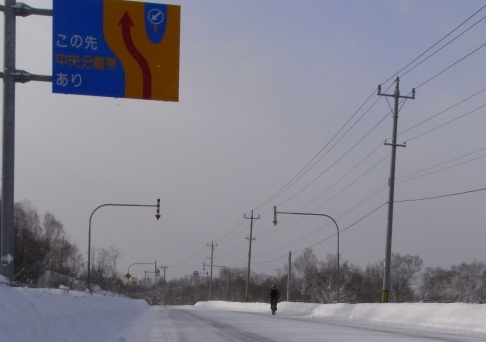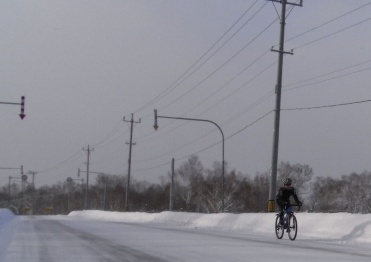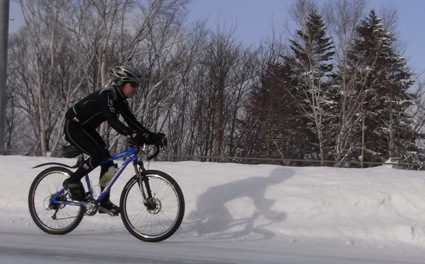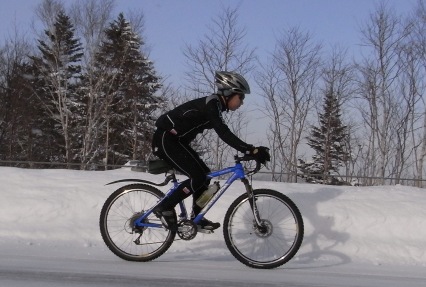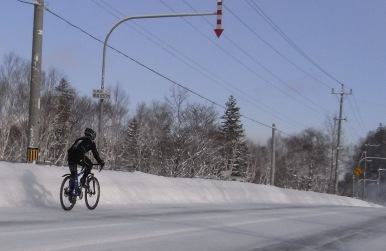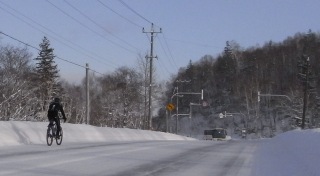 We rarely have such a good weather in winter.