It's off-season but we would like to introduce another usage of
road racing bikes for snow
. So we add this training report to this site although it's not that of the snow season like
Okurige
.
The road racing bikes for snow are designed for using on snow like these.
But if you put summer tires on them, they become bikes for gravelled roads. This day, we climbed to Ginsendai where the highest motorable road in Hokkaido is. Its altitude is 1490m, higher than the Mt.Tokachidake Hot Springs where the highest motorable road during the winter is situated (cf.
Mt.Tokachidake
). The road to Ginsendai is partially unpaved. And after visiting Ginsendai, we climbed the Mikuni Pass, the highest motorable pass in Hokkaido. Its altitude is 1140m.
Dr.K
and
Tesseract
participated in this training. It was 15 degrees Celsius at Ginsendai.
This day, the atmospheric situation was not very good. Although Hokkaido was covered with an anticyclone, a cold air mass was above us. So it could rain at any moment because of convection.
Tesseract brought
his first bike for snow
that he's been using in summer after
his second bike for snow
had taken over its place during the winter. He's entering the entrance of the road for Ginsendai.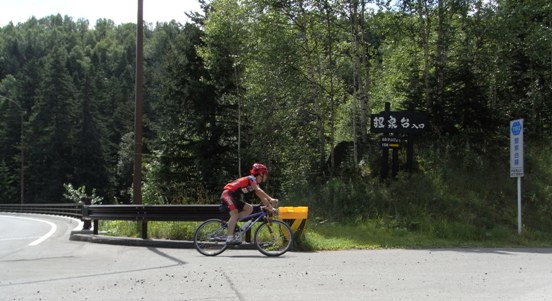 Dr.K broght
his usual bike for snow
. He's passing this corner at high speed. He's really motivated before the climb begins.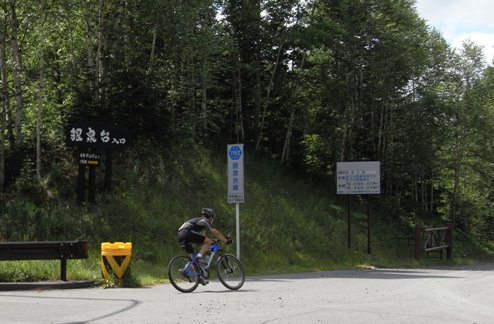 The Mt.Midoridake enters the view. It's being covered by rain cloud. This day, many nimubi were forming because of the unstable atmospheric condition.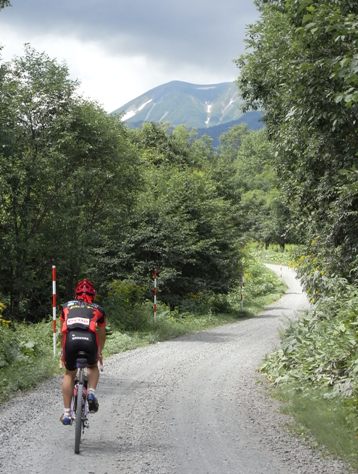 This route is a prefectural route which was planed to traverse the mountains of Taisetsu (the plan was renounced because of protestation by environmentalist groups). So the road state is good. Therefore, this route is really suitable for road racing bikes for snow equipped with summer tires (road racing bikes for snow are less suitable than MTBs for bad roads).
There are very few points from where we can enjoy the view through the interstices between trees.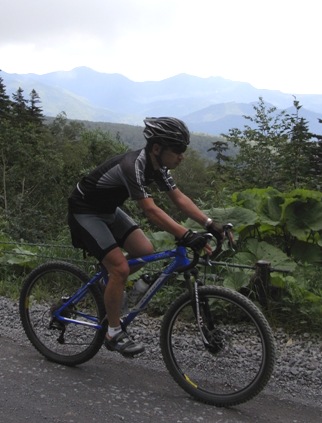 The mountain in front is being cloud covered.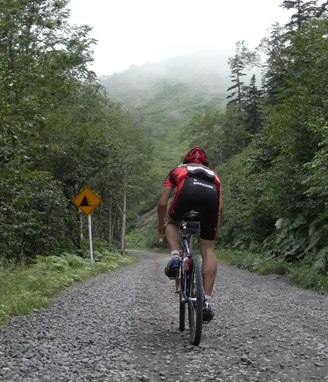 So far we climbed talking together. At about 1 kilometre away from Ginsendai, Tesseract accelerated.
Tesseract arrives first at Ginsendai, at the altitude of 1490m, the highest motorable road in Hokkaido. The Mt.Higashidake and its lingering snow are beautiful.
Video:
Dr.K arrives 2 minutes 40 seconds later.
Video:
In the downhill, at first, Tesseract leads. He's descending avoiding holes.
Video:
Dr.K is better at gravel condition than Tesseract. So he speeds in the downhill.
Video:
From time to time, we pass paved sections. But Tesseract doesn't speed because he has difficulty distinguish paved sections and unpaved sections from distance as his eyesight isn't very good. So he rides slowly to avoid sudden entering to the unpaved section until he memorises the route.
Video:
Dr.K who is better at gravel road has no worry about that. So he speeds in paved sections as well.
Video:
Tesseract led Dr.K till the halfway although he's not good at gravel condition. But during the descent, for about two kilometres near the foot, the road surface was wet because of s shower. Tesseract who didn't want to get wet slowed down but Dr.K who is regardless of that continued descending at the same speed.
Dr.K won this descent.
He got some mud in exchange of victory.
Tesseract who was descending avoiding puddles arrived at the foot considerably later. So he's got no mud.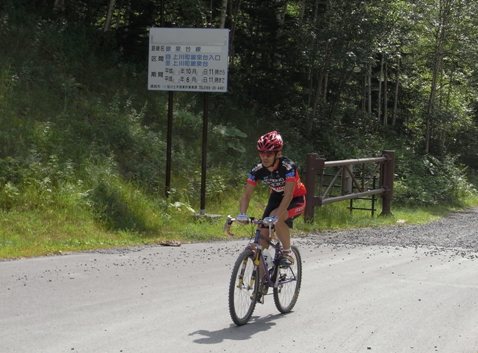 We had parked our cars at the foot. This day, each of us brought two bikes: road racing bikes for snow and normal road racing bikes. So at the parking, we changed the bikes. From here, we ride normal road bikes to train on the Mikuni Pass, the highest motorable pass in Hokkaido. It's altitude is 1140m.
Heading for the Mikuni Pass.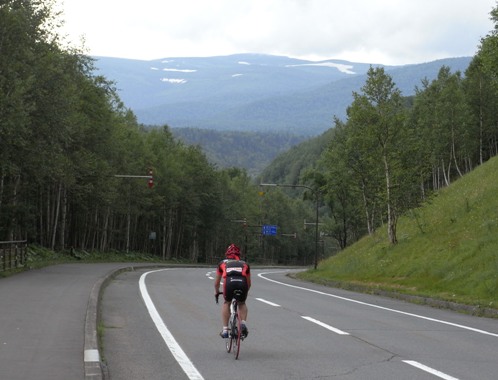 The mountains of the Taisetsu with their lingering snow are beautiful.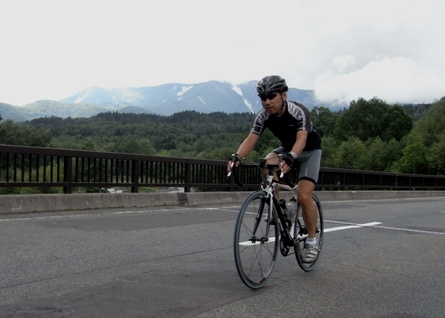 It could rain at any moment. Tesseract wants to end this training fast before the rain commences. So Tesseract always pedals in front. In this climb, head wind is strong. So Tesseract leads at 25-27km/h and Dr.K is resting behind his wheel. But the fact that Dr.K doesn't go in front and is always refuging behind him from the strong head wind doesn't please him. So Tesseract attacked after passing a left-hand corner, where the influence of the head wind diminishes. He continues climbing at 37-39km/h for a while and Dr.K disappeared from his sight soon.
Tesseract arrived first at the summit of the Mikuni Pass, the highest motorable pass in Hokkaido. But it seems to be hard for him. It must be hard for him riding at this speed, who retired from bike races more than 10 years ago and currently rides bikes only 2 or 3 times a month.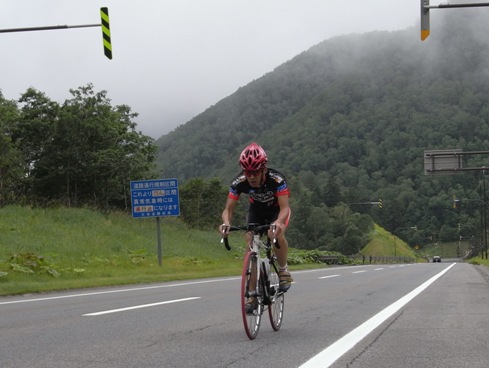 Dr.K arrived 4 minutes 30 seconds later. For Dr.K who is sprinter, this speed of climbing must be hard.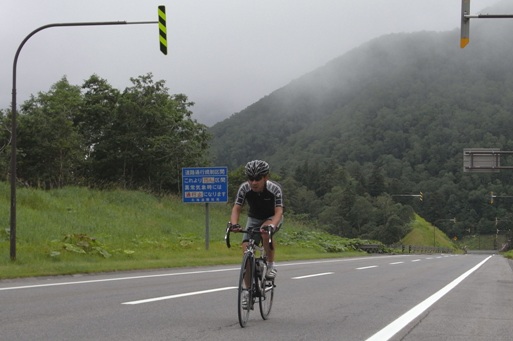 We had planed to go to the other side of the pass through the tunnel at the summit because the view from the other side of the tunnel is famous for its beauty. But the tunnel was unbelievably narrow and the weather wasn't very good so we have decided to go back.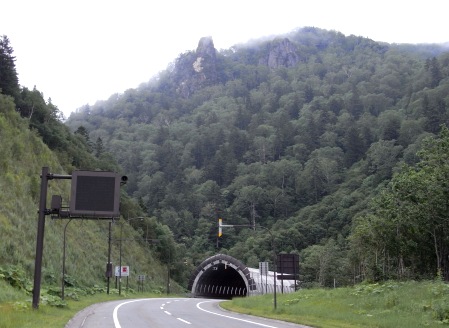 In the downhill. Dr.K dropped. Tesseract is better at the descent with road bikes on asphalt. And during the descent, it began to rain and the rainfall became very strong. We both lost motivation to train and rode the rest of the itinerary talking.