We are in spring. In this season, it's usually difficult to have snow on road. Therefore, we went training just before the sunset after a snowfall.
Dr.K
and
Tesseract
participated in this training. It was minus 7 degrees Celsius at the Kenashi Pass and the travelled distance was 32.12km.
Dr.K's climbing with the background of the Cape Takashima and the Sea of Japan.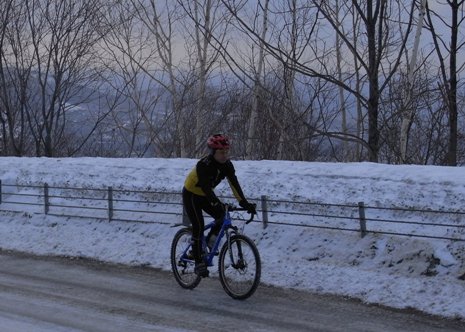 The urban district of Otaru spreads out behind Tesseract climbing.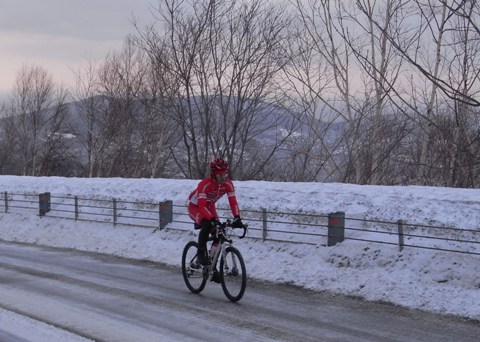 The sun is setting.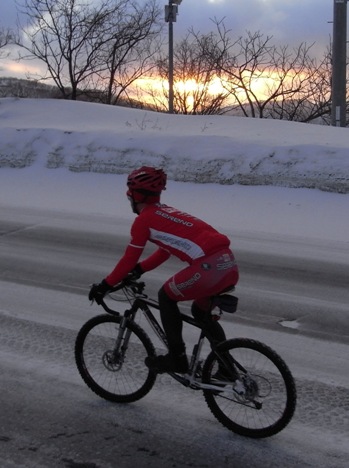 As you see, we don't have much snow on road. It's already spring.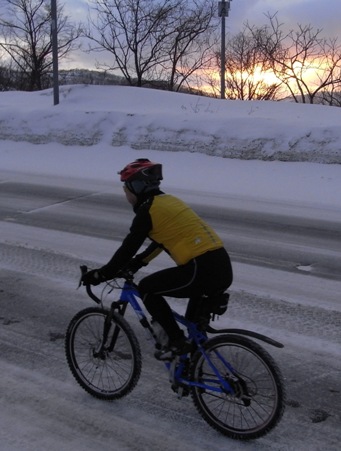 At dusk, Tesseract activated his headlights.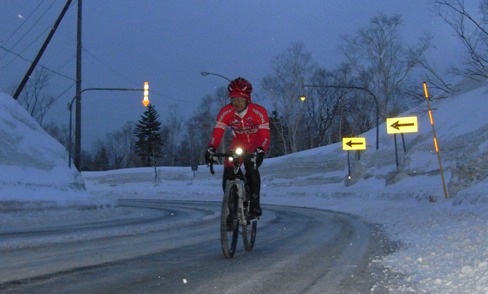 Dr.K did as well.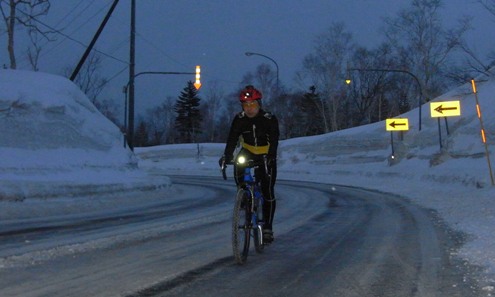 Tesseract is making his final approach to the Kenashi Pass.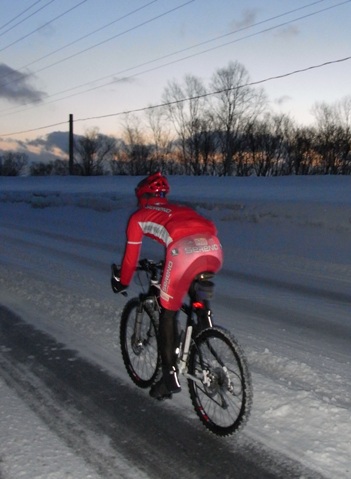 Dr.K is equipped with many reflectors.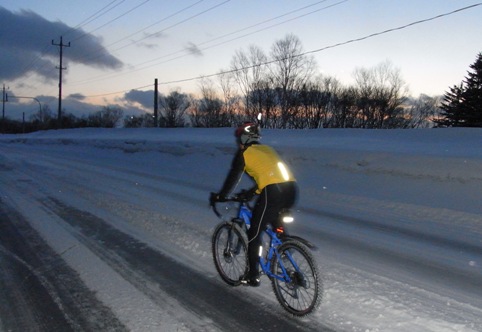 Tesseract's arrival to the Kenashi Pass.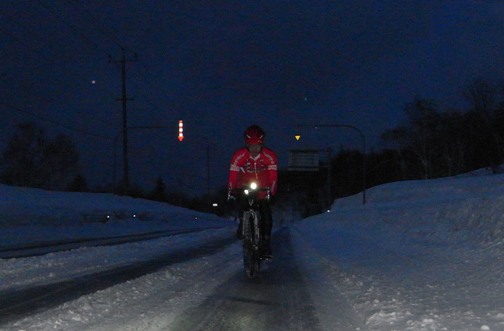 Dr.K's arrival. We came here talking together without any match.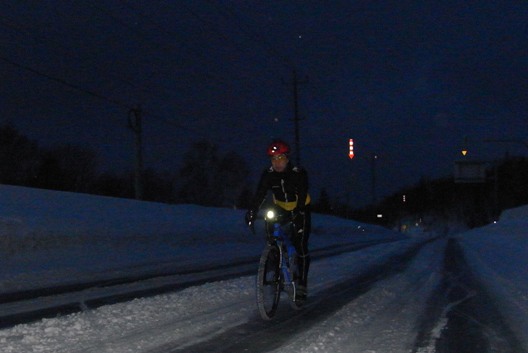 As we don't have much snow on road, the road is covered with hard ice. So the studs of tires do not grasp the road surface well. Therefore, Tesseract is descending prudently.
Video:
Dr.K's descending more prudently.
Video:
We entered a narrow road which was covered with fresh snow. Tesseract has no difficulty in riding in the fresh snow as his studded tires are Mudmad of IRC (cf.
Studded tires
) and he has enough experience in riding such deep snow.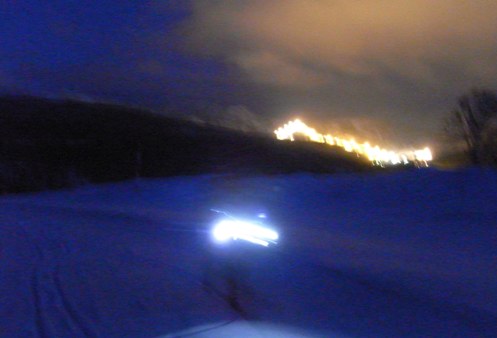 But Dr.K has a lot of difficulty because his sutedded tires are those of Nokian which aren't suitable for fresh snow. The bright background is Kiroro Skiing Resort.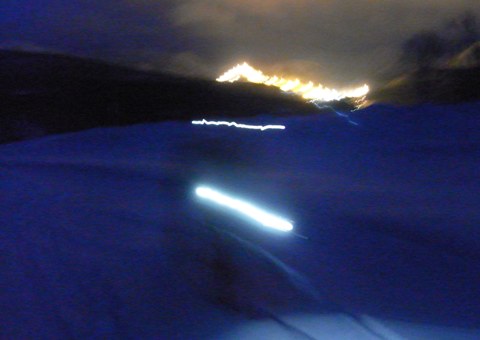 Dr.K struggled with deep snow because of the tires so Tesseract won this descent easily with 1 minute 10 seconds advantage.
We had dinner in a restaurant situated near Kiroro Skiing Resort. After dinner, we climbed the Kenashi Pass from the Akaigawa side.
We pass the narrow road again. Tesseract has no problem in riding on this deep snow as we mentioned above.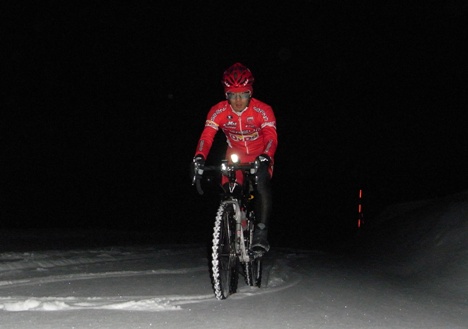 But Dr.K complains about deep snow saying it's almost impossible to get traction.
The mountain slants lit by the lighting of Kiroro Skiing Resort are beautiful.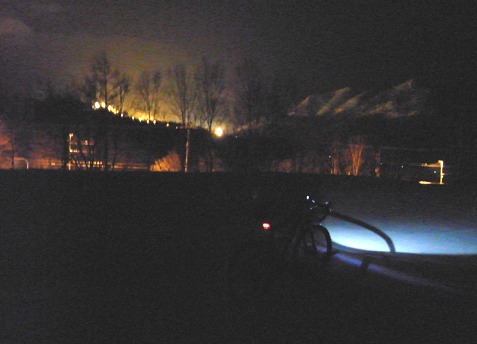 It reminds us European Alps in dawn.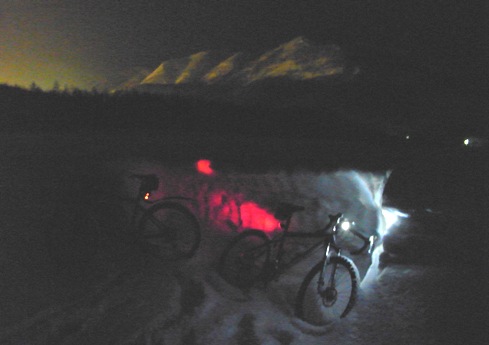 We climbed talking together but Tesseract accelerated 500m before the summit.
Tesseract is passing the final climb to the Kenashi Pass. The snow on the road has melted a lot during our dinner because the temperature of the road surface was high enough. He choses the snow covered part to ride because he doesn't want to damage the studded tires riding on asphalt.
Video:
Dr.K doesn't care about which part he rides as he doesn't care about studded tires.
Video:
Tesseract won this climb.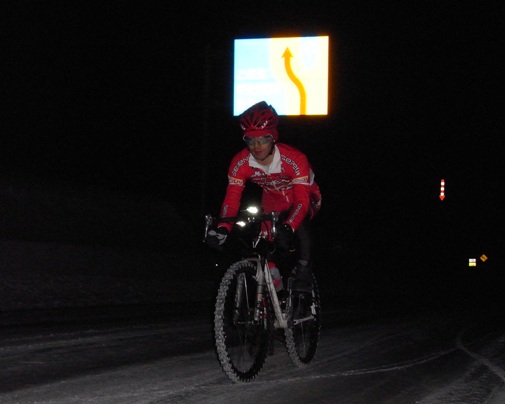 50 seconds later, Dr.K arrived.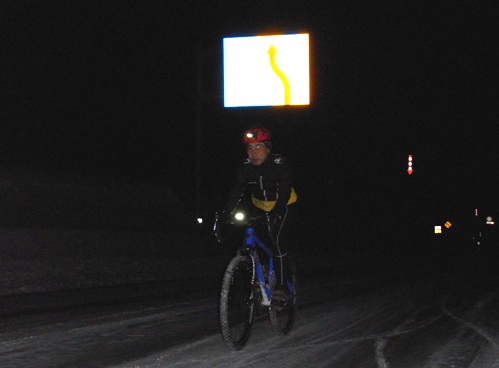 We began to descend and we parked our bikes on the bridge situated at the altitude of 500m. There we enjoyed the night view of Asari.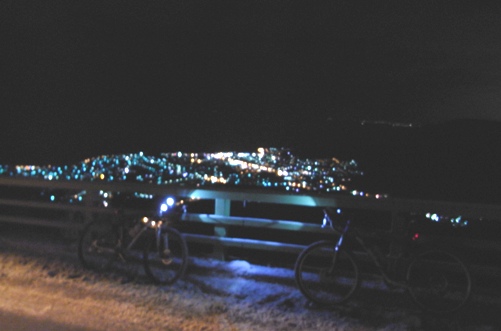 And after that, we parked the bikes once again to enjoy the view of Otaru.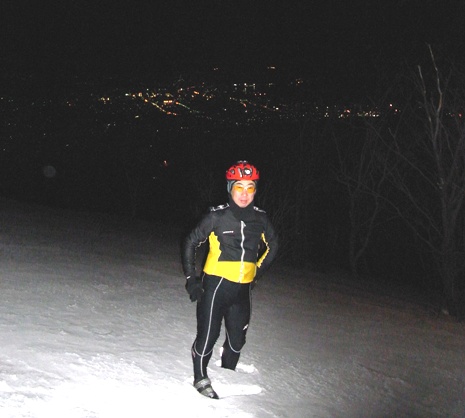 Tesseract likes the city of Otaru.