K
participated in this training. It was minus 3 degrees Celsius at the Mt.Asahidake Hot Springs. We are in the middle of October. Only 5 months have passed after the training
Mt.Tokachidake 22
effectuated in May. It was the shortest off-season in our history.
It's rare that such amount of snow falls from the sky in this period of year. But because of a strong typhoon passing in the east of Hokkaido, a strong cold air covered the Hokkaido island and it snowed even on the plain. This snow out of season caused a lot of damage all over Hokkaido.
K wanted to ride on the usual training route: the Mt.Tokachidake. But that route is closed due to heavy snowfall. There it snowed more than 50cm and the snow knocked down many trees. So currently nobody has idea when the road reopen. Therefore, he came here: the Mt.Asahidake which is the alternative training route of the Mt.Tokachidake to enjoy the first ride on snow in this season.
It snowed so much even at the low altitude.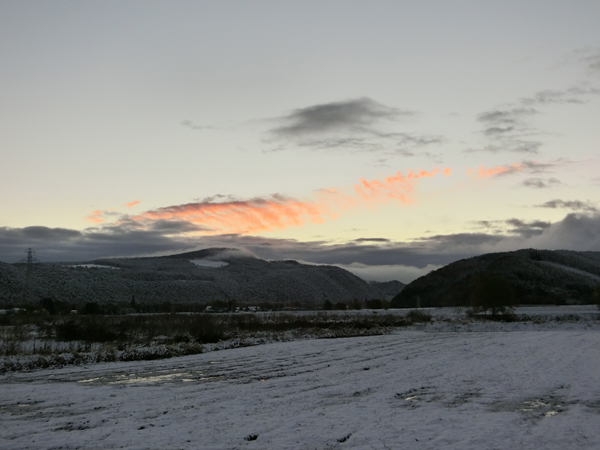 Because of the too eary snow, many trees bent or fell.
The snow temperature was high. So the snow was very wet and heavy. Moreover, trees at the low altitude weren't ready for winter. Many of them have still full leaves. Some of them even didn't turn in autumn leaves yet. Fortunately, there are very few trees have fallen although many of them have bent. Damage is much lighter than that of the Mt.Tokachidake. We heard many trees have fallen and blocked the road at the Mt.Tokachidake.
K climbed to the altitude where there is enough snow in car passing the altitude where the trees are bent.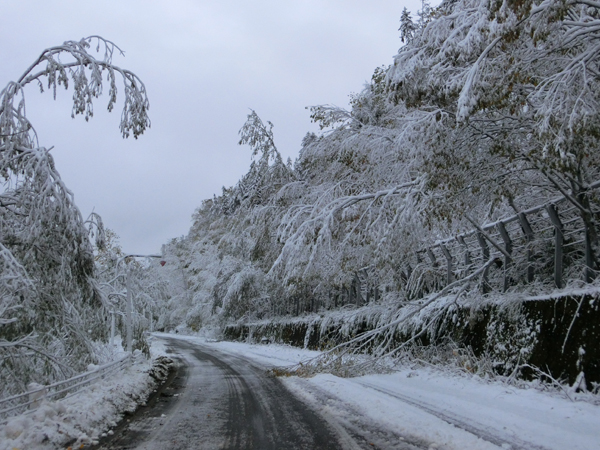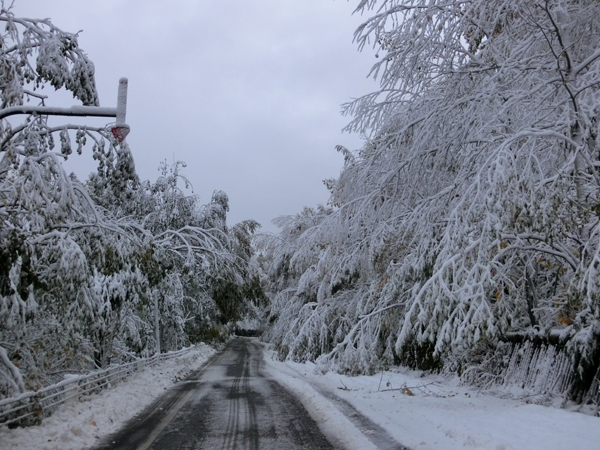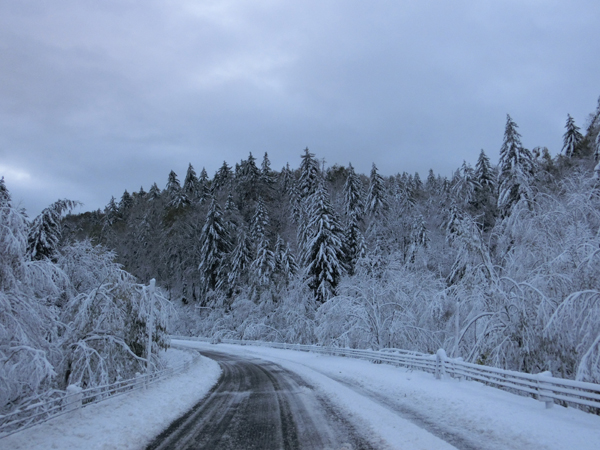 He commences his training at the altitude of 1020m. The Mt.Asahidake which is the highest peak in Hokkaido is cloud covered.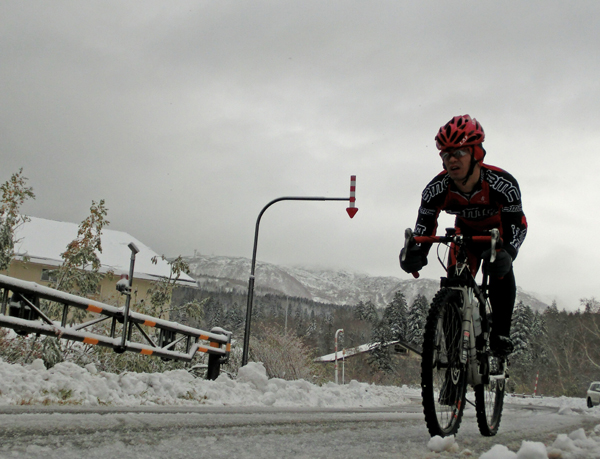 After descending several kilometres, he made U turn and headed for the summit. On the way, there is a abandonned car. It must have stranded due to heavy snowfall out of season because it wasn't still equipped with snow tires.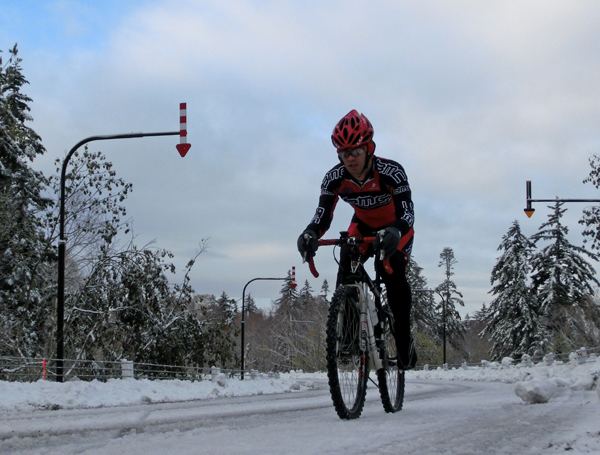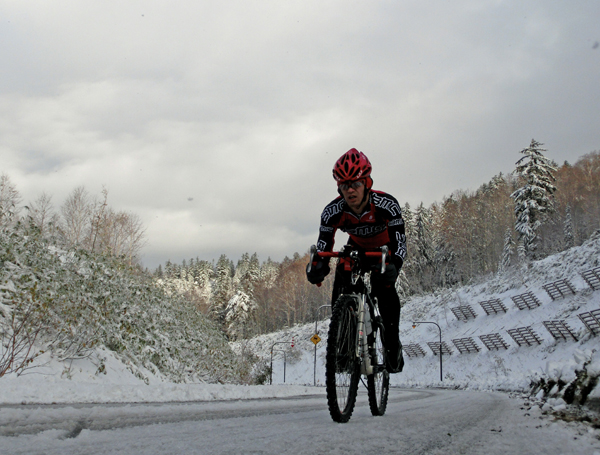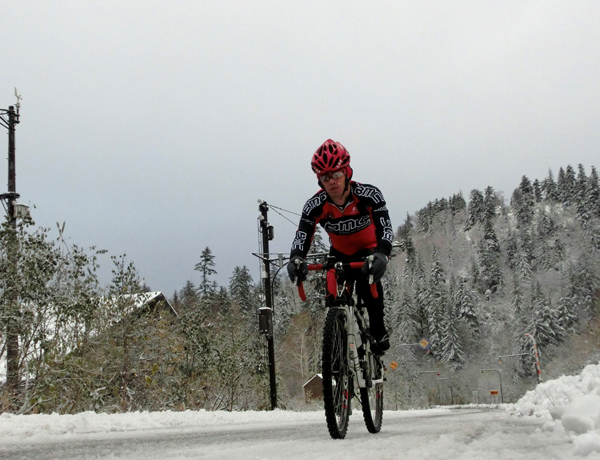 The snow is melting. He has to hurry to reach the summit.
The highest point of this route: 1100m of altitude where the aerial cableway station is.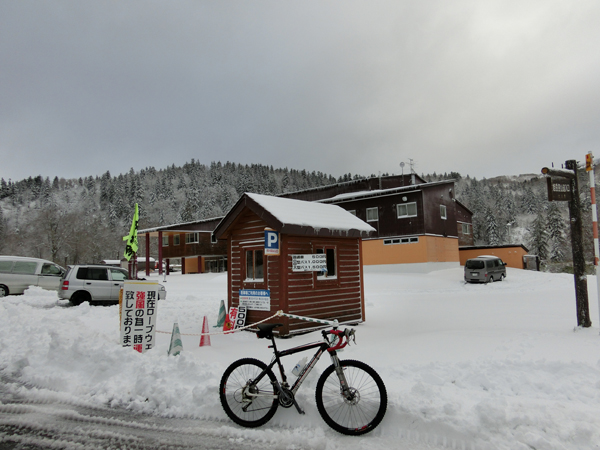 Descending to the original point.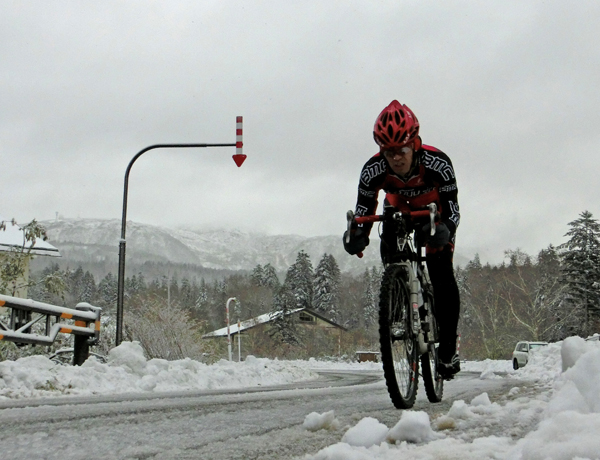 After finishing the training, he went back to Sapporo in car. The snow was already melted at the low altitude and the bent trees recovered a little during this hour.