This photo was taken by that bus driver in the front of the main building of the Kiroro Skiing Resort.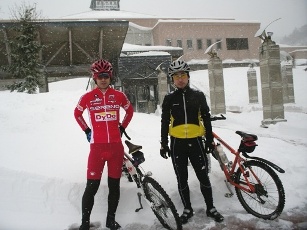 We said good-bye to him and began to descent (passing his bus).
We found a nice and friendly small restaurant at the entrance of the Kiroro Resort. We entered the restaurant.
The rest of the conversation was similar to that with the bus driver.
We ate there very delicious Bibimbap (kind of Korean dish).
During the lunch, we brought our bottles inside the restaurant so that they recover from the frozen state. Tesseract's bottle wasn't frozen because he had made the concentration of the beverage in the bottle very high (refer to
Bottles
). But Dr.K's bottle was frozen because he had put just fresh water. He thought the temp wouldn't be so low. After the lunch, we said good-bye to the owner and resumed our training.
We climbed up the Kenashi Pass through the usual narrow road up to 530m.
Series Mt.Yoichidake:
Tesseract is engrossed in the view of the Mt.Yoichidake although it's not being seen because of snowfall.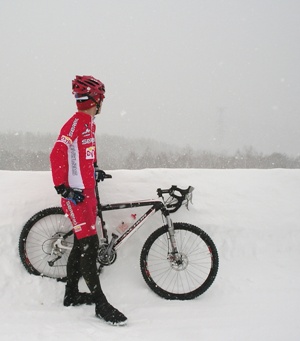 That's the point on the narrow road from where we often watch the Mt.Yoichidake.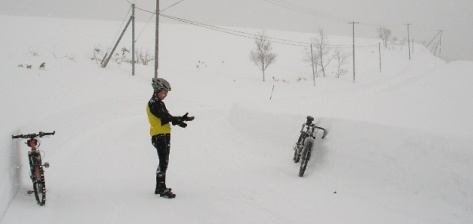 From the altitude of 530m, we rode on the National Route 393. At the altitude of 580m, Dr.K gave up to follow Tesseract. The road condition was not good as the snow-removal was delaying.
Tesseract arrived at the summit solo.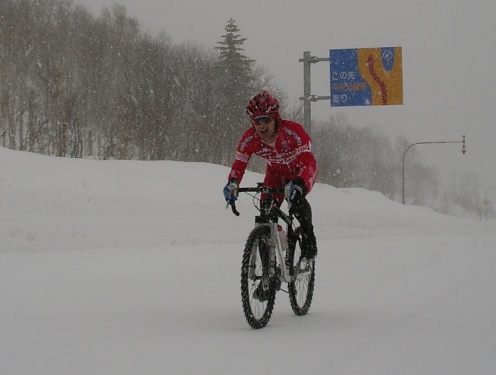 Thus far, Tesseract rode
his new bike
several times in the training. He said his new bike is extremely comfortable. She transmits the force well, her manoeuverability is very high, the brakes are good, she is very stable on the snow even in a high speed and she is very beautiful.
Dr.K arrived about 20-30 seconds later.
That's the snowplough turning place at the summit.
We descended in the direction of Otaru and reached the original point of the training.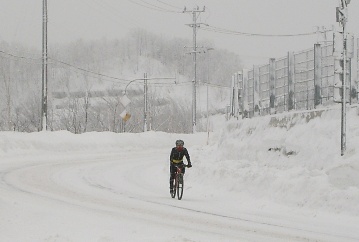 Dr.K's (Tesseract forgot to activate his cycle-computer so his didn't record anything) traveled distance was 34km, the average speed was ? Tesseract's maximal velocity was a little more than 55km/h (He remembers seeing 55km/h on the display although it didn't record it).
The Kenashi Pass Profile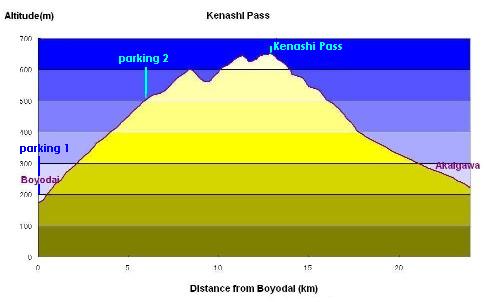 Routes Introduction/Kenashi Pass 1/2
Routes Introduction/Kenashi Pass 2/2